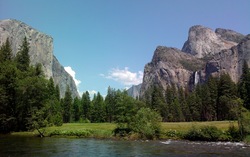 Yosemite is certainly a gem, but for someone to get the whole experience, it's important not to lose sight of the many other attractions in the gleam of that gem
Madera County, CA (Vocus) August 12, 2010
As summer starts to wind down, this weekend is a great chance to explore California's Gateway to Yosemite, as the National Park Service waives entry fees.
"Yosemite is obviously the main attraction in the region, but it brings people here where they find much more," said Dan Cunning, CEO of the Yosemite Sierra Visitors Bureau which represents Madera County, California's Gateway to Yosemite. "When they discover things like Bass Lake, the Madera Wine Trail and other popular attractions, they realize there is much to see in the gateway region."
Madera County surrounds Highway 41, the most traveled entrance in to Yosemite. Located at the south of the park, the entrance is the closest to popular spots like the Mariposa Grove of giant sequoias, Glacier Point and tunnel view. There are also many things to see and do on the way in to the park as well.
"Many people don't realize how prolific the area is in terms of wine production," Cunning said. "Many of the grapes from popular wines from more well known areas are grown here. There are also several award winning wineries located in Madera County as well."
Madera County is also home to numerous art galleries and history museums. The region claims more artists per capita than any other in the country, and the rich history stemming back to Native American tribes, the gold rush and logging industry are on display throughout the county. Organizations such as the Madera Arts Council and Sierra Art Trail hold numerous events to acquaint visitors with the galleries and works of Madera County, while the Consortium of Southern Yosemite Museums represents nine museums showcasing everything from clothing dating as far back as the 1700's to gold panning, logging and even a working nearly 100 year old steam engine, on which you can ride through the Sierra National Forest.
"Yosemite is certainly a gem, but for someone to get the whole experience, it's important not to lose sight of the many other attractions in the gleam of that gem," said Cunning.
More information:
http://www.YosemiteThisYear.com
http://www.southyosemitemuseums.org/
http://www.sierraarttrails.org/
http://www.maderaarts.org
http://www.maderawinetrail.com
Jarrod Lyman
Director of Media
Yosemite Sierra Visitors Bureau
(559) 683-4636
###