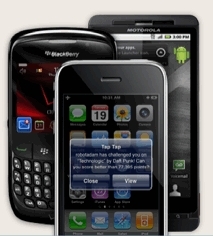 Urban Airship is fully committed to the Android platform and to helping developers take advantage of sophisticated mobile features to increase both the number of app downloads and the user engagement of the app post-download
Portland, OR (Vocus) August 11, 2010
Today, Urban Airship releases AirMail Push for Android, a complete push notification system for Android mobile applications. With AirMail Push, mobile publishers have an easy-to-integrate push API to send real-time mobile alerts to apps running on the Apple iOS, Android and Blackberry platforms—from one API. Urban Airship also unveils AirDrop, a free, easy-to-use web-based tool designed to help Android developers share their apps.
Despite the popularity of push notifications on mobile apps, the Android platform—until now—lacked a viable push notification service. Urban Airship enters the market to fill that void with AirMail Push for Android, an end-to-end push infrastructure that makes it relatively easy for mobile app developers to integrate push into their apps. Urban Airship has established itself as a solid third-party mobile infrastructure provider, and with this release becomes one of the top third-party providers on the Android platform.
With AirDrop, Urban Airship is helping Android developers solve a problem shared among developers across all platforms, namely, how to market their app, get it downloaded and keep it in use. Apple has a redeem-code service through that allows developers to send out codes to people. This has proven to be a good marketing tool for developers but again, Android developers did not have a simple way to generate and share redeem codes. Unless an app appears on a "featured app" page, it is very hard for users to discover new apps.
So Urban Airship built AirDrop as a free redeem-code generating tool. Developers sign up through a simple login and within minutes can share their app with scores of users via URL links.
"Urban Airship is fully committed to the Android platform and to helping developers take advantage of sophisticated mobile features to increase both the number of app downloads and the user engagement of the app post-download," says Scott Kveton, CEO of Urban Airship. "With AirMail Push for Android, our engineering team built the equivalent of the Apple Push Notification Service infrastructure from scratch, and we made it simple for mobile publishers to reach more of their users across multiple platforms from one API. Then, as a way to give back to the Android community, they built this easy sharing tool for developers."
Benefits of Push Notifications
Push notifications are popular on mobile apps: they solve a key challenge for mobile publishers who want to engage their mobile app users after they have installed the app. Push notifications not only deliver real-time instant information to users, in their pockets, but also they cost far less than other mobile messaging services, such as SMS. Because push notifications travel over the IP network, users incur no fees for their receipt. Other benefits of push notifications relate to the battery life and network usage footprint of the mobile device. Because new data is pushed out to each device, the devices no longer need to continuously poll the network to see if new data is available, thus significantly increasing the life of a battery and reducing the network usage.
Urban Airship AirMail Push for the Apple iOS platform debuted in 2009. Thus far, the company has delivered nearly 1 billion mobile messages. Urban Airship introduced Phase I of its multi-platform strategy with the introduction of AirMail Push for the BlackBerry platform in March and continues to execute on a complete mobile offering across all viable platforms.
About Urban Airship
Urban Airship (urbanairship.com) delivers messages and content to mobile apps on smart phones and always-on devices. Its platform offers a real-time, direct-to-person experience that helps mobile publishers and businesses strengthen their engagement with app users, rapidly monetize their apps and develop ongoing revenue streams from existing content. Using its scalable infrastructure and easy-to-integrate tools, businesses and publishers can offload the expensive and time-consuming burden of building and supporting push notifications and in-app purchase functionality onto Urban Airship. The venture-backed company is based in Portland, Oregon.
###