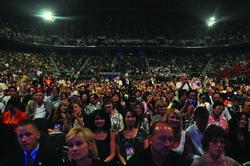 GREENSBORO, N.C. (Vocus) August 11, 2010
Market America held its Annual International Convention in Greensboro, N.C. Aug 5-8 at the Greensboro Coliseum Complex to a sold out crowd of over 25,000 detailing how the company is using technology to change the way people shop and unveiled a host of new products and services.
Market America detailed how social media networks are changing the face of business, introduced the newest programs to fight childhood weight challenges with TLS Shape Up™ and unveiled new Market America products, such as, a new children's probiotic, Might-a-Mins® Spectrum Probiotics In addition Prime® Joint Support Formula by Isotonix® was unveiled; naming Scottie Pippen as the spokesperson for the product and a newly developed Transitions Lifestyle System® product called ACTS, debuted to aid in weight loss for a healthier America.
Loren Ridinger, Senior Vice President and Marc Ashley, Chief Operating Officer also identified why Marketamerica.com is the #1 "Most Improved" website, according to Foresee Online Retail Satisfaction Index (http://www.foresee.com) and why marketamerica.com recently jumped 12 spots on Internet Retailer's Top 500 best internet companies, to #54. They also debuted marketamerica.com's new look with more robust user interfaces, featuring the newly enhanced "ma Cashback" program. Ma Cashback is the revolutionary new shopping program from Market America that pays consumers up to 50% cash back on all purchases. Combined with Market America's lightening fast search technology, customers are getting paid-to-shop like never before.
Kim Kardashian made a guest appearance to discuss the power of social media in today's business world, and to provide her personal declaration that ma's Cashback program is the best way for consumers to get what they want and save money at the same time.
Also launched was Market America's new NPO Program, which allows non-profit organizations to take part in the UnFranchise® business plan. With over 1.5 million non-profits across the country, Market America is leading the way to help them generate the capital they need, using the unique tools and methods available through Market America. Additionally, a panel of physicians discussed how Market America's nutraMetrix® program is revolutionizing the health care industry by integrating wellness, nutrition and weight management, at the doctor office level.
James Ridinger, President and CEO of Market America concluded the event by detailing how Market America's UnFranchise® business model (http://www.unfranchise.com/) helps entrepreneurs become hopeless successes and create ongoing income. He also provided additional details on Market America's technological advancements, new product rollouts and the importance of using social media to enhance business initiatives.
2010 marks the 18th consecutive year Market America has held its annual Convention in Greensboro, home of its worldwide headquarters. The convention provides Market America Customer Managers from across the world with business and product training, product demonstrations and leadership from the company's executive team, field leaders and industry experts.
ABOUT MARKET AMERICA
Market America is a product brokerage and Internet marketing company that specializes in One-to-One-Marketing. With more than six million customers and 180,000 Customer Managers worldwide, the company has generated over $3 billion in accumulated retail sales and now offers up to 50% off all purchases with ma Cashback; a revolutionary new shopping program that saves you money and pays you to shop! Headquartered in Greensboro, NC – the company was founded in 1992 by president and CEO James Ridinger and employs over 550 people globally with international operations in the United States, Canada, Taiwan, Hong Kong, Australia and the Philippines. Through its revolutionary One-to-One Marketing concept, Market America combines the Internet with the power of people – creating the ultimate online shopping destination. More information is available at http://www.marketamerica.com.
Contact:
Sara Vinson
Sarav(at)marketamerica(dot)com
336.389.5824
###