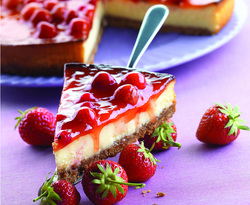 (PRWeb UK) August 12, 2010
ACS&T Logistics, the UK's leading frozen food logistics provider has signed a new contract to provide high-quality Italian food distributor Ticco Ltd, with a centralised logistics service. The new service, which is designed to ensure the safe handling and distribution of Ticco's fragile products will also save money on both storage and delivery costs.
Ticco supplies fine Italian breads, pastries, desserts, ice creams, snacks and savouries to the foodservice sector, and is the sole UK distributor for the world-renowned Bindi brand of Italian desserts, gelato and sorbetti and the Buoni e Pronti brand of savouries.
ACS&T have worked with Ticco to provide storage, picking and delivery services from its Grimsby depot for many years. However, under the terms of the new contract, ACS&T is receiving Ticco's inbound stock into its Wolverhampton depot from suppliers in the UK and Italy. ACS&T then picks from 300 different product lines to create consolidated pallets for onward delivery to Ticco's customers.
Carl Robinson, Sales & Commercial Director of ACS&T said:
"Ticco's pastries, cakes and fine breads are about as delicate as stock gets, so for Ticco, our ability to make sure the fragile products are handled with care is really important. Our objective is to ensure that Ticco's customers receive pastries, desserts, ice creams and savouries that look as delicious as they did when they came into our store.
"The sheer number of different products and the relatively small quantities of each required per order means that picking for Ticco is an intricate process. With a selection of over 25 tortes alone, we make sure we check each pallet and product before delivery, to make sure customers receive the correct cakes at the right destination.
"We're also helping Ticco to stay competitive. As part of our account reviews we looked at ways to save Ticco money and decided to move the operation from Grimsby to our Wolverhampton depot. This central location has reduced fuel costs, minimised food miles and made the supply chain more efficient."
Paul Lelew, Managing Director of Ticco, said:
"We have used ACS&T for a long time and over the course of our working relationship they have proved to be a responsive, knowledgeable, flexible and reliable logistics partner. Moving to Wolverhampton has meant that our suppliers have less distance to travel, reducing fuel costs and food miles for everyone involved."
ACS&T operates from four centres in Grimsby, Wolverhampton, Tewkesbury and Scarborough. The company's extensive resources include 12 cold stores, 3 ambient stores, comprehensive co-packing facilities and large, dedicated and shared user multi-temp transport fleets.
Committed to delivering high quality service, and operates with integrity and a concern for the environment, ACS&T is accredited with the BRC Storage & Distribution certificate across all sites and temperature regimes in addition to the ISO9001 and 14001.
To find out more about Ticco, please visit Ticco website. For further information on how ACS&T can help to make your logistics programme more efficient and save you money, contact Carl Robinson on 01472 358207.
###