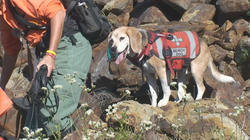 We always hope for happy endings
San Diego, CA (PRWEB) August 11, 2010
A cadaver-trained search dog leads the San Diego Sheriff Search and Rescue team to find what had eluded them for weeks – the whereabouts of a local person feared dead. For Danie, the beagle, and his handler, Pam Medhurst, it was bittersweet – a successful mission accomplished in summer heat and difficult mountainous terrain. Pam says "We always hope for happy endings". That day brought needed closure.
There are thousands of stories. This is just one. "Trackers - Every Life is Important" is a film dedicated to the caring volunteers and their beloved and gifted dogs that make Search and Rescue work. "As writer, producer, and director, I have entered it in NexTv Web Series & Short Competition with a passion to bring actual heroic stories of Search and Rescue to the screen."
A vote for this film is a vote for SAR everywhere. During the call-for-entries period of the NexTv Web Series & Short Film Competition, there is a monthly viewer's choice "Shortcut to the Finals". The top vote-getter each month gets a pass to the finals. The list of industry heavy-weights involved is long (ICM, Disney, "The Office", Fox, etc...); getting to the finals gives search dogs a lot of good press.
To vote for "Trackers – Every Life is Important":
1. Go to http://www.nextventertainment.com/web
2. Click on the big blue tab at the bottom left of the page that says, "Shortcut to the Finals"
3. Type in Jeanne McKinney (or Trackers) in the search bar on the right just above the list of submissions
4. Click on WATCH.
5. Then click on VOTE.
6. Please pass voting instructions to your friends and put on Facebook.
Pam, Danie, and I appreciate your support!
Deadline is September 4th, 2010.
For more information please contact:
Jeanne McKinney
(760) 525-8141
jeanne(at)avtekproductions(dot)com
http://www.avtekproductions.com
YouTube link is at http://www.youtube.com/watch?v=tffSi-Ntrp4
###