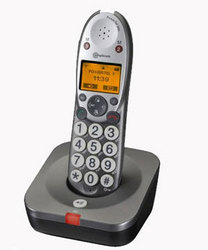 Based on the most advanced technology, these phones provide the ultimate in noise and interference reduction for clear and easy communication.
Los Angeles, CA (PRWEB) August 12, 2010
Amplicom™ USA (http://www.amplicomusa.com) introduces a practical and intelligent approach to telephone communications for those with hearing loss with its new PowerTel series of corded and cordless amplified telephones and accessories. Based on the most advanced technology, these unique phones provide the ultimate in noise and interference reduction for clear and easy communication.
Amplicom phones are designed to work with hearing aids and cochlear implants, meeting the superior TIA-1083 compatibility standard developed by the Telecommunications Industry Association at the urging of the Hearing Loss Association of America. The only amplified phone on the market that features yourSOUND™, the PowerTel series allows settings to be adjusted and set for multiple hearing profiles, so that each member of the household can switch to his or her own preferred volume and frequency at the touch of a button.
"Patients in my busy audiology practice appreciate the clear sound and the unique, adjustable yourSOUND feature of the PowerTel cordless phone. It works beautifully for patients with or without hearing aids, and I even recommend it for people without hearing loss," says Candice Tackett, Au.D., Hearing Center of Kalamazoo, MI.
In addition, Amplicom phones are among the few amplified phones to offer DECT 6.0 technology, an interference-free frequency that is standard in Europe. With an amplified volume of up to 50 dB, Amplicom's initial PowerTel 500™ model is one of the loudest phones on the market. It is also one of the clearest, since it offers five frequency settings that cover a wide spectrum.
There are some 36 million Americans known to suffer from mild to moderate hearing loss, and legions more who don't report or even recognize the condition. "Hearing loss causes some sufferers to avoid or even abandon the telephone, creating a barrier that impacts their families and friends as well," says Michael Abramowitz, President, Amplicom USA. " For the aging population, the resulting isolation is even more serious, since independence and safety are at stake. At Amplicom we consider it our mandate to improve quality of life through quality of communications," he adds.
Amplicom phones are not just for hearing aid wearers, but also for anyone with marginal hearing loss. Often, these consumers only experience problems while talking on the phone. Hearing adjustment is not just a matter of volume, but of tone frequencies. Amplicom's tone control allows each user to find the perfect level for optimal communication.
And Amplicom designs its phones to be vision-loss friendly as well. The keypad features large, high contrast easy-to-read buttons. A brightly illuminated LED window displays the time and incoming caller numbers. Future product offerings will also incorporate talking buttons and Caller ID for better feedback to low vision users. In addition, several accessories such as a wireless shaker and alarm clocks with extra loud ringers and wireless vibrating pads are offered.
Suggested retail for the PowerTel 500 is $139.95. Soon to be available is the PowerTel 501, an expandable handset that works with all cordless base PowerTel phones, for $89.95, as well as a series of combination telephone and answering machines.
For further information, to find a distributor, or to request assistance, please visit http://www.amplicomusa.com or call 866.AMPLICOM. Please contact Megan Brown of Light Years Ahead at (323) 650-2201 or megan (at) lightyearsahead (dot) com for press information.
###