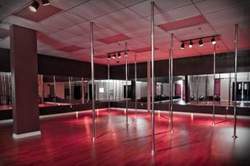 "It's our students. Financial rewards are one thing, but the personal satisfaction that I and my instructors feel when one of our students reaches their goals cannot be measured monetarily."
Corona, CA (PRWEB) August 13, 2010
A wise person once said, "Love what you do and you will never work a day in your life." Diana Boyle, owner of Embody Pole Fitness (http://www.embodypolefitness.com ) in Corona, CA, has embraced this philosophy and is making it a reality. A computer network system engineer by trade, she has turned her love of fitness and pole dancing into the Inland Empire's latest fitness craze. Serving only women, Embody Pole Fitness combines pole dancing, yoga, and unique fitness classes and they have enjoyed an exciting first month in business. In addition to pole dancing, students are benefiting from over 148 specialized classes per month, the exciting dance hall cardio, burlesque and unique iron body building Russian kettlebell training. In addition to their amazing classes, they offer specialized workshops weekly, including Lap Dance Workshops, Striptease/Erotic Dance Workshops, Ballet Body, and numerous Pole Workshops. They have hosted numerous fun and trendy pole dancing parties both in house and at homes. "Girl's Night Out" in July was their first event, it was an overwhelming success. Over 36 women attended for the "Embody Martini" and an Erotic/Pole Dance class. Currently, they have one of their instructors choreographing a music video and preparing for the US Pole Dancing Championships. Additionally, Embody Studios have scheduled two of the biggest names in the pole dancing business, with workshops featuring the world famous Pole Dance Performer Zoraya Judd and amazing contortionist Emil Valentino.
For residents of the Inland Empire, it's been catching on like wild fire. "We've been overwhelmed by the response we've receiving, "Diana says. When asked about what her secret was for generating such a positive response she says it's simply that she enjoys making her clients her friends and she designed a studio she would knew they would not only get results, but enjoy spending time in. "I had been a member of the giant corporate gyms for years, it amazed me how many women didn't feel comfortable working out there. I wanted to create a place in the Inland Empire which women could become physically and mentally fit while feeling safe, in a supportive, non-judgmental environment."
Anyone who enters the studio can expect to see an environment which goes way above and beyond what is "normal" for a gym. The beautiful studio is immaculately maintained, they boast a nightclub quality lighting and stereo system and they have an amazing staff of professional and courteous certified instructors. All that is great, but it's the little things which really set the Embody Studio apart. It's the fact the entire staff knows all of their clients by name. It's the fact they make it a point to help even if it's not "their" job. It's that they schedule numerous out of studio events for their customers. It's that they send out Birthday and Christmas cards just to say "We're thinking of you." I took all the things I didn't like about my giant corporate gym….the impersonality, the unprofessional trainers, the unclean facilities, the boredom and eliminated them from Embody. When asked about her inspiration she said, "It's our students. Financial rewards are one thing, but the personal satisfaction that I and my instructors feel when one of our students reaches their goals cannot be measured monetarily."
Come see for yourself!
###