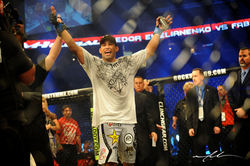 North Hollywood, CA (PRWEB) August 13, 2010
Fabricio Werdum is scheduled to undergo surgery on August 18, 2010 to remove bone fragments from his left elbow. The outpatient procedure medically termed, Diagnostic/Operative Arthroscopic Debridement, simply means washing out the joint and removing any loose debris or irregularities within the joint. The goal of this procedure is to increase Fabricio's range of motion and alleviate the constant pain he has endured over the last 2 years. The procedure will be performed by Dr. Neal S. Ellattrache, M.D., a sports medicine specialist with the world renowned medical team of Kerlan Jobe and team physician for the Los Angeles Dodgers.
"I have put this procedure off for about two years now. I am thankful that I have been able to compete at the highest international levels in both mixed martial arts and submission grappling and prove victorious despite my nagging injury. You've seen what I can do when I'm hurt, imagine what I can do when I'm healthy. Either way, without the support of my family, friends, Scott Coker and Strikeforce, I couldn't do anything," says Fabricio Werdum.
Fabricio expects to resume a light training schedule after six weeks of physical thereapy. Fabricio looks forward to returning to action first quarter 2011. Fabricio would like to thank all of his fans for their prayers and support, he is looking forward to a speedy recovery and a return to the cage.
For more information on Fabricio Werdum, and/or media inquires ONLY please contact:
Publicist contact:
Terrance Gillum
AB&G PR
818-205-8729
terrancegillum(at)abgpr(dot)com
Sherise Bright
AB&G PR
323-868-6932
sherisebright(at)abgpr(dot)com
Manager contact:
Richard Wilner
Wilner & O'Reilly
818-395-1606
rmwilner(at)wilneroreilly(dot)com