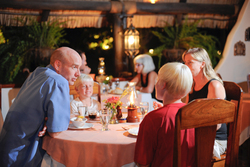 Of course, that leaves you perfectly ready for a relaxing swing in the hammock, perhaps a visit to the hilltop spa and some more eating and snacking. It certainly works for us
San Francisco, CA (Vocus) August 14, 2010
Cayo District, Belize Central America -The Lodge at Chaa Creek, Belize's premier rainforest adventure destination, is offering a new Thanksgiving Vacation Package for those who prefer an exotic setting and a bit of adventure with their turkey.
Set within a stunning 365 acre private nature reserve along the banks of the Macal River and surrounded by Maya temples and beautiful rainforest, Chaa Creek's owners have been celebrating Belizean jungle Thanksgivings for over 30 years and invite guests to join them this year.
"After our first year settling Chaa Creek we felt we had so much to be thankful for, so we scraped together our then meagre resources to throw a feast with family and friends. Ever since, it has become an annual tradition we look forward to. Over the years more and more guests would take part, and now it's one of our favourite times of year," said Lucy Fleming, who began Chaa Creek as a small family farm with her husband Mick and their children.
Families, couples and singles are all invited to take part in the Belizean Thanksgiving, which spans a few days of mixing adventure, learning, healthy outdoor activities and relaxation with the gastronomic excess we associate with the holidays.
"We don't stint on the food and drink, but what better way to alleviate the guilty pleasure of stuffing yourself than by a horseback, bike or hiking trip through the forest, followed by a refreshing swim and activities such as a walk to the Butterfly Farm, Natural History centre, Maya Organic Farm or our many other attractions.
"Of course, that leaves you perfectly ready for a relaxing swing in the hammock, perhaps a visit to the hilltop spa and some more eating and snacking. It certainly works for us," Ms Fleming said.
Chaa Creek's affordable Thanksgiving Vacation Package is an all inclusive minimum three day mix of fine food, activities and relaxation and is available throughout November. In addition to great meals, the package includes lovely cottage accommodation, guided bird walks, visits to the Butterfly Farm, Natural History Museum and Rainforest Medicine Trail, canoeing on the Macal River, swimming in Chaa Creek's new swimming pool and hiking the Ruta Maya Trail System within the pristine 365-acre nature reserve.
Thanksgiving is a time for families, food and festively acknowledging the good things in life. Add a bit of adventure with great weather in exotic surroundings and you have the makings for a very special holiday indeed.
For more information about the Thanksgiving Vacation Package, contact the property at 877-709-8708, reservations(at)chaacreek(dot)com or visit the web site at http://www.chaacreek.com.
###