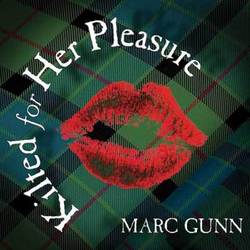 Celts love to laugh as much as anyone...
New Orleans, LA (PRWEB) August 16, 2010
"Do you like kilts and Celtic music?"
That's the question Celtic folk musician, Marc Gunn, asks with his latest CD, "Kilted For Her Pleasure". The album is all-out Celtic comedy music for those who love to laugh by the undisputed "Godfather of Celtic Music Online". Gunn has offered more Celtic MP3 downloads free and legally than any other Celtic musician online. His latest CD is a testament to his dedication to the fun Celtic music he loves.
The album features fifteen tracks of sing-alongable Celtic songs that range from the traditional to the twisted. Traditional pieces include the popular Clancy Brothers' song "Beer, Beer, Beer" and the less-known but sprightly bawdy, song "Maid Went to the Mill".
Some of the more fun songs are originals penned by Marc Gunn. "A Drop of Vulcan Blood" is a parody of an old Sea Shanty that is rewritten about Star Trek. "Monahan's Mudder's Milk" is a Celtic tribute to the Sci Fi Western TV show "Firefly" by Joss Whedon. At it's base, it's a Woody Guthrie-style worker's rights song about a man trying to escape the oppression of a dead-end job. Then there's the title track, "Kilted For Her Pleasure", which explains just why Gunn loves the kilt.
"I love wearing a kilt," says Gunn dressed in his newest olive green Utilikilt, "but it's so much more than the love of my Scottish heritage. It's a love of my whole Celtic culture... Not to mention the looks I get from the ladies."
However, it is the contemporary songs that shine the brightest on this album. Comedy songwriter Spaff co-wrote the song "St. Patrick Never Drank" and satirically announces that the good Saint never touched alcohol, despite the fact that St Patrick's Day is probably the most-drunken day of the year. However, the funniest song by far is Daniel Glasser's comedic lullaby called "Close Your Eyes". The reason? "Because the demons in your bed are gonna eat you up."
The album is an exciting breakthrough into an untapped market for Celtic comedy music. "Celts love to laugh as much as anyone," Gunn begins, "I just thought I'd give them something for our contemporary Celtic culture."
In the spirit of the indie musician, Gunn paid for the album entirely through fan sponsorships. Thirty-eight fans donated various amounts of money, from $40 to $500, to help pay for this album. That includes the Executive Producer, a collectible toy store owner credited as "Lord and Master Larry Owens of http://www.NRFBToyStore.com". In just two short months, the album was paid for in its entirety by Gunn's passionate fans.
Track listing:
1. Kilted For Her Pleasure
2. A Drop of Vulcan Blood
3. Maid Went to the Mill
4. Close Your Eyes
5. Beer, Beer, Beer
6. To the Begging He Will Go
7. The True History of No Pants Day
8. Jock Stuart, A Man Who Wears a Kilt Every Day
9. St. Patrick Never Drank
10. Call of the Bodice
11. The Mower
12. The Widow and the Devil
13. Kitty Cat
14. The Sailboat Armada
15. Monahan's Mudder's Milk
Marc Gunn is available for interviews at (512)470-4866. MP3 downloads of album songs are also available for review. Find out more at http://www.marcgunn.com.
###