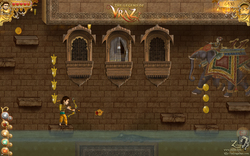 The Legend of Vraz has been developed with a lot of fervor and passion and gamers will notice it when they play it. The overwhelming response from people and awards from the fraternity confirm this fact.
Ahmedabad, India (PRWEB) August 18, 2010
Zatun takes pride in announcing the release of their game "The Legend of Vraz" which is based on an Indian legend. It is the first arcade game based on Indian Miniature painting style and is playable by all age groups. In this story-based adventure game, the Prince and the Princess meet, fall in love and the Prince braves the world of exotica to win the love for Princess. This Indian game explores the realms of a culture which is hardly touched by usual video games and has won the Best PC game Award at FICCI BAF Awards 2010 in Mumbai. Game Enthusiasts can buy game online for just $19.99.
The fans of Prince of Persia and retro Mario games will love this game as it is a classic mix of Prince of Persia and Mario meets India. The highlight of the game is its exquisite hand painted 2D graphics in traditional Indian miniature painting style and a mesmerizing game play that give game enthusiasts an outstanding adventure experience. The stunning visuals combined with an incredible soundtrack and an enchanting game play captivate the player and make the player wander in a magnificent dreamland from where they would hate to come back.
The Legend of Vraz is an epic love story where Prince Vraz is in love with Princess Avi and in order to marry her has to successfully perform five tasks set by the Princess Avi's father. Seems Simple? It sounds simple, but this Indian game is loaded with challenges at every level; thanks to Vizier of Kund who plans to marry the Princess and take control of the Kingdom. This game will propel the players to utilize their reflexes and mind in the best possible manner and is a respite from the violence usually seen in other games.
The five tasks of the game include winning 100,000 coins or gold of equivalent value, finding the brightest red rose, the diamond studded heart, a traditional sword and a traditional horse.
In the game; Vraz faces 14 different enemies and each is a strong opposition and hard to win on. The game is played in 15 stages and 4 exotic worlds. The player has control of Prince Vraz. Vraz can jump, rope walk, run, collect gold and keys, operate objects and fire arrows. During the course of the game the arrows can be upgraded in five ways. To fight enemies, Vraz can jump on them or fire arrows to neutralize them. To increase health, Vraz can use mangoes along with milk cans and reach for the cow that also has recharge energy features. The game can be played with the keyboard or mouse or both depending upon the preference of the user.
Game enthusiasts who have played this game love it and believe the game is suitable for all ages including children since there are no bloodshed's, deaths, violence or use of any abusive language. Many have gained an insight to Indian traditions and cultures. In all galore, this game harnesses the essence of human existence – love, compassion, forgiveness and bravery.
The game is priced at just $19.99 and players can buy game online from the official website zatungames.com. The website also contains game screenshots, game wallpapers, game trailers and additional information. Our online game store offers a safe and secure shopping experience.
"The Legend of Vraz" is an elegantly simple game which is easy to learn but difficult to master! Any enthusiast who plays it will enjoy it and would want to play again and again to master it.
About Zatun:
Zatun is an Indian independent video game development company dedicated to developing engaging, action-packed, fun-to-play video games. Providing game development services and game art services to global game developers and publishers, Zatun has already proved itself to be a leader in the industry. Zatun is also a licensed IPhone Developer and has developed IPhone Games, IPad Games, PC Games, Casual Games and Facebook Games. For more information, please visit http://www.zatun.com or call on 415-735-7021.
###