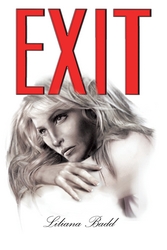 to live is to change.
North Las Vegas, NV (Vocus) August 18, 2010
Few events in life stir the soul more dramatically than facing death. In her second book, Exit (published by Trafford Publishing), author Liliana Badd, tells Ondine Duquesne-Schmidt's story through a new awakening. When the protagonist begins to battle for her life, Ondine, a linguistics professor living a seemingly happy life in Paris, discovers that her soul is more fragile than her leukemia-stricken body when she begins to examine the meaning of her life.
Turned upside down, Ondine gestates in an overwhelming and morbid depression, questioning her marriage, her family, her career and her treatment. She begins to contemplate an easier road.
After her awakening – aided by the compassionate Dr. Monique Veil – she becomes friends with a prostitute with AIDS and a Russian painter with whom she begins a passionate affair. When an independent newspaper publishes Ondine's photos of her prostitute friend, her life begins an unexpected spiral in a new direction.
Later in life, Ondine returns to Paris, meditating on her life after her illness and how she has affronted death, stirring controversy and passion, understanding that "to live is to change." Does Ondine have enough time left in life on the edge of non-life? A surprise unexpected twist will leave readers shocked at the end of Ondine's story.
About the Author
After a life under communism and exile, Liliana Badd lived through a dramatic confrontation with death in 1999, causing her to begin a new life in Las Vegas. At age 57, she is pursuing a career in the medical field after realizing she was born with "an immense capacity to love." Liliana graduated from the University of Germanic Languages in Bucharest and for 20 years was a professor of English literature and linguistics in France. Exit is her second book. Her first, Living Shadows, is an autobiographical novel, which she hopes to remodel, recreate and rewrite into parts of her third book, The Hourglass. For more information visit http://www.exitlilianabadd.com.
Trafford Publishing is the premier book publisher for emerging, self-published authors. For more information, please visit Trafford publishing.
###