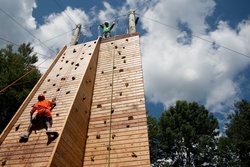 "I wanted to acknowledge luck; the chance and benevolence of it in my life, and the brutality of it in the lives of others, especially children, who might not be allowed the good fortune of a lifetime to correct it." Paul Newman on Hole in The Wall Camps.
New Haven, CT (PRWEB) August 18, 2010
Cyclists across the country can take to their wheels September 12 in support of Hole in the Wall Camps that Paul Newman founded to bring hope and healing to seriously ill children. The Camp Challenge Ride Series is the first national bicycling event to support the Camps where children with cancer, HIV/AIDS, diabetes, metabolic disorders, hemophilia, and other serious illnesses can enjoy an empowering outdoor recreational summer camp experience complete with round-the-clock medical care.
On September 12, riders of all abilities have three choice locations at which they can pedal to send kids to camp: the desert beauty of California, the lush and historic "Quiet Corner" of Connecticut or the sweeping vistas of the Adirondacks. They connect with the Camps' mission through 15-mile, 30-mile, and 62-mile course offerings, Camp tours, and a family-style picnic celebration.
The national event launching next month got its start last year with a ride at The Hole in the Wall Gang Camp that brought in more than $215,000, every penny of which went to send kids to camp. Health care company Aetna had supported that ride with a $50,000 grant and this year expanded their commitment to $250,000 so that Team Hole in the Wall could build on their success, adding simultaneous rides at Hole in the Wall Camps in Lake Hughes, CA and Lake Luzerne, NY.
"Team Hole in the Wall is deeply grateful for this visionary grant from Aetna that will build the capacity of our Camp Challenge offering and ultimately enable more seriously ill children to attend a Hole in the Wall Camp than ever before," said James H. Canton, Chief Executive Officer of The Hole in the Wall Gang Fund, Inc.
About The Hole in the Wall Gang Camp
Founded in 1988 by Paul Newman, The Hole in the Wall Gang Camp in Ashford, Connecticut is a nonprofit, residential summer camp and year-round center serving children and their families coping with cancer and other serious illnesses and conditions. Through its Camp programs, year-round outreach to hospitals and clinics, and ongoing services for children, families and caregivers, the Camp serves more than 15,000 children annually. All of its services are provided free of charge.
About Aetna
Aetna is one of the nation's leading diversified health care benefits companies, serving approximately 36.1 million people with information and resources to help them make better informed decisions about their health care. Aetna offers a broad range of traditional and consumer-directed health insurance products and related services, including medical, pharmacy, dental, behavioral health, group life and disability plans, and medical management capabilities and health care management services for Medicaid plans. Our customers include employer groups, individuals, college students, part-time and hourly workers, health plans, governmental units, government-sponsored plans, labor groups and expatriates.
Please Contact:
Team Hole in the Wall
Mike Smiles
(203) 772-0522
Kate Robins
KRPR
(860) 389-5092
###