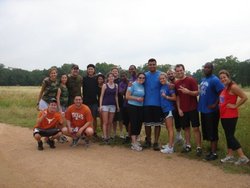 It is important as leaders to give back to the community
Austin, TX (PRWEB) August 17, 2010
Competitive Consulting, Inc., an Austin-based sales and marketing company, announced that the company recently raised funds for LiveStrong, an organization that empowers the cancer community to address the unmet needs of cancer survivors.
President of Competitive Consulting, Joe Nolan and the Competitive Consulting team organized a charity event in which the entire office participated. Teams were put together and each team raised money for a charity of their choice. The teams then competed in physical and mental challenges with the winning team being able to donate the money collected by all teams to the charity they represented.
"We competed and pushed ourselves," said President Joe Nolan. "At the same time, we were able to display great leadership traits for a completely selfless cause."
The team at Competitive Consulting has friends and family who have had to deal with cancer so it was easy to want to support an organization that aims at helping the cancer community and its survivors.
"It is important as leaders to give back to the community," Joe Nolan said. "We all had a blast and raising money to support LiveStrong was the icing on the cake!"
Follow us on Facebook!
About Competitive Consulting, Inc.
Over the past several years, Competitive Consulting, Inc. has expanded from an Austin-based start-up to the premier firm for outsourced marketing and sales. Our approach building face-to-face relationships with small and midsize companies has meant exponential growth for our clients. For more information, contact (512) 371-7373.
###