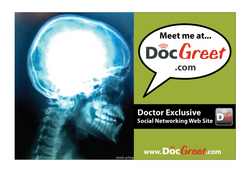 According to Shane Porter, DocGreet.com is leading the way in healthcare revolution, through Health 2.0 services and medical social media.
New Smyrna Beach, FL (PRWEB) August 30, 2010
Docgreet.com has continued to build its site to make communicating with patients more secure, convenient, educational and financially rewarding. DocGreet understands that patient education and communication are some of the primary focuses of Health Care 2.0. "We want our members to educate their patients and their fellow clinicians" said Shane Porter, CEO of DocGreet Inc.
By using the principles of open source, generation of content by users, and the power of networks in order to personalize health care, collaborate, and promote health education DocGreet .com has become a trusted source for both Clinician and patient.
DocGreet recently implemented a wiki style article section of their site. Once an article or research paper is uploaded fellow clinicians can comment and add to the paper. This gives clinicians insight into practical applications of treatment as well as innovative treatment strategies for hard to treat cases.
One of the groups that seem eager to embrace health 2.0 is the Chiropractic community. According to Jason Bramble the CTO at DocGreet "We are seeing a huge trend in Chiropractic Physicians using our site to advertise to new patients, educate the general public and interact with each other about treatment methods."
There are groups of healthcare providers that still have to advertise their business and educate their patients about the benefits of specialty care; these groups seem to be open to the electronic age and social media forums. Shane Porter went on to say "so many people are being helped everyday online, while doctors and other healthcare providers offices sit empty."
Recent studies have shown that many Doctors are hesitant to engage in online sites like DocGreet.com because they don't understand the liability and implications of care. Doctors get excited about the concept, but still are apprehensive to enroll quite simply because it seems to good to be true or it seems like more work. Even with a premium package the savings in advertising cost and email networking is amazing, and the online presence is invaluable.
DocGreet and other Health 2.0 services are here to stay. Like it or not the patients have spoken and they are demanding more from their doctors and healthcare providers due to the availability of expert care that can be found online.
DocGreet.com - leading the way in Healthcare Revolution, Health 2.0 services and Medical Social Media.
###