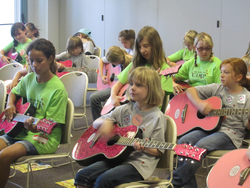 Spending the day with the campers reminds me why I wanted to start Daisy Rock in the beginning—it's all about inspiring girls to play guitar and enjoy music
Los Angeles, CA (Vocus) August 17, 2010
Daisy Rock Girl Guitars, the original girl-guitar company, presented a girl guitar day on August 4 to Girl Scouts, grades 2-6, during the week-long Musicpalooza camp held at the Museum of Making Music in Carlsbad, CA.
The girl guitar day began in the Daisy Rock Girl Guitar museum exhibit with Daisy Rock Founder and President, Tish Ciravolo, showing the Girl Scouts her signature Daisy electric guitar that was inducted in 2006 as a landmark, culture-changing music product innovation. The campers learned about what makes the guitar a "girl guitar"—the "Slim & Narrow" neck that fits girls hands and is easier to play, the lightweight design that makes the guitar easier for girls to hold and play, and colorful inspiring designs. Campers then gathered around tables to draw their very own girl guitars. "Spending the day with the campers reminds me why I wanted to start Daisy Rock in the beginning—it's all about inspiring girls to play guitar and enjoy music," commented Ciravolo. "They were so inquisitive as to the different parts of a guitar, and the excitement on their faces as they created their own guitar on paper was just incredible."
The day concluded with a 2-hour class on how to play the guitar, conducted by professional guitar teacher and Daisy Rock endorsed artist, Nikki O'Neill. Each girl received their own Daisy Rock guitar to play during the class and learned to play songs such as "Happy Birthday" and even the classic riff to "Smoke on the Water." "I was really impressed with the girls' progress with just one class," stated O'Neill. "Helping girls to play music on the guitar at such a young age is an amazing thing. There was nothing like this when I was learning, and I really wish there was. It builds such a sense of accomplishment and camaraderie, which is important when taking on a new instrument."
Daisy Rock Girl Guitars offers a complete line of quality girl guitars designed to look and sound great, and to fit the female form. For more info, visit daisyrock.com now!
ABOUT DAISY ROCK GIRL GUITARS
Daisy Rock Girl Guitars is the original girl guitar company dedicated to successfully supplying and marketing professional quality guitars for females of all ages. All Daisy Rock guitars are designed specifically for the female form and feature lightweight bodies, "Slim & Narrow" neck profiles to better fit smaller hands, and are available in inspiring finishes. Daisy Rock Girl Guitars is comprised of two extensive product catalogs. "DEBUTANTE by Daisy Rock" is a line of guitars that consists of Daisy, Butterfly, Heartbreaker, Star, and other models—geared specifically for beginning guitarists. "DAISY ROCK" is a line of professional guitars and basses consisting of full-scale models like the Rock Candy, Stardust, and Siren series. Daisy Rock Girl Guitars' ongoing mission is to do whatever it takes to help girls play guitar and enjoy music.
Daisy Rock Girl Guitars is led by its Founder and President, Tish Ciravolo. Ciravolo is a highly acclaimed expert on female empowerment and females in music. Tish's expertise has been immortalized by her induction into the Museum of Making Music, the world's premier museum showcasing the history of the music products industry, and she is widely regarded as a visionary in the industry. Ciravolo's deep insight into the subject of girl guitars and female empowerment has made her a sought after and frequent contributor on national and international television, newspapers, magazines, websites, and radio programs including USA TODAY, People, Time, Newsweek, CNN, ABC, NBC, FOX, VH1, the Premier Radio Network, BBC Radio, and the Associated Press. Daisy Rock Girl Guitars is in over 25 countries worldwide, and is co-owned and distributed by Alfred Music Publishing.
###