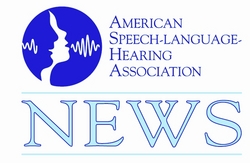 Turning down the volume and limiting listening time are two easy steps any listener of personal audio technology can take to protect their hearing
Rockville, MD (Vocus) August 17, 2010
Noting the impending release of new research showing that hearing loss among U.S. teens is up 30%—more than 70% when just mild or worse cases are considered—the American Speech-Language-Hearing Association (ASHA) is encouraging the public to follow the hearing safety tips of its Listen To Your Buds campaign (http://www.listentoyourbuds.org), which does outreach in schools and other ways to teach young children how to use personal audio technology safely.
The research is due to appear in tomorrow's issue of the Journal of the American Medical Association.
Although the cause of the greater prevalence of hearing loss among teens isn't clear, the researchers noted that "some risk factors, such as loud sound exposure from music listening, may be of particular importance to adolescents as well." In addition, they report that "adolescents and young adults typically underestimate symptoms of loud sound, tinnitus, and temporary hearing impairment during music exposure and underreport concern for these conditions."
"Turning down the volume and limiting listening time are two easy steps any listener of personal audio technology can take to protect their hearing," according to ASHA President Tommie L. Robinson, Jr., PhD, CCC-SLP.
Dr. Robinson encourages parents to model safe listening and to visit the website of ASHA's campaign where they can pledge to promote hearing protection and also find helpful resource information.
"Hearing plays a significant role in a child's educational, psychological, and social development," Dr. Robinson adds. "The start of a new school year is a 'teachable moment' for parents to show and explain to their children how important their hearing is and how they can protect it."
About the American Speech-Language-Hearing Association
ASHA is the national professional, scientific, and credentialing association for more than 140,000 audiologists, speech-language pathologists, and speech, language, and hearing scientists. Audiologists specialize in preventing and assessing hearing and balance disorders as well as providing audiologic treatment including hearing aids. Speech-language pathologists identify, assess, and treat speech and language problems including swallowing disorders.
View all ASHA press releases at http://www.asha.org/about/news.
Listen to all ASHA podcasts at http://podcast.asha.org.
To find an audiologist or speech-language pathologist visit http://www.asha.org/findpro.
CONTACTS
Kimberly O'Sullivan
301-296-8715 (Office)
301-987-8420 (Mobile)
###