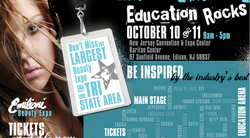 After extensive research, we found that beauty professionals want to be kept abreast of the latest trends and techniques, so we made the focus of the show education
Raritan, NJ (PRWEB) August 18, 2010
Emiliani Enterprises, beauty distributor and education expert, announces 'Education Rocks,' a renewed and exciting Beauty Expo that will kick off on Saturday, October 9, 2010 at the New Jersey Convention Center (Raritan, NJ). Known in the past as the New Jersey Beauty Festival, the relaunch arrives after a one year hiatus, with a refreshing graffiti look and promises to bring the very latest in creative techniques, product innovation, and inspiring new classes to beauty professionals. Features of the event include a VIP reception, a Student competition, and more than 2,000 seats of "hands-on" classes and tailored packages allowing experts and novices to access a full day of education at great pricing.
The rich schedule highlights demonstrations of innovative techniques with some of the industry's leaders such as: Nicholas French and Daniel Roldan, Michael O'Rourke, Chrystofer Benson & Leanne Shade, DJ Muldoon, Rafe Hardy, Ozzie Reyes, Anna Cantu, Colin Caruso, Charles Marcus, Leonel Rodriguez, Rocky Vitelli, Lauren Gartland, Lance Courtney, and Emiliani's own Brian Grieve & Tracey Smith. Exhibitors include brands such as Paul Mitchell, Farouk, Matrix/Logics, Sexy Hair, Joico/ISO, Framesi, Coppola, Bosley, Paul Brown, American Crew, Moroccan Oil, OPI, Repechage,and many others! This event is truly a must-attend to learn about the latest trends from the world's top hair, nail, and makeup artists from the top talents of this exciting and vibrant industry.
On Saturday October 9, there will be a Grand Opening Night and VIP reception, which will offer an opportunity to preview and access to the show floor (limited guests only). The night will be energized by the New York City based dance and percussion troupe Street Beats and renowned graffiti artist Vincent Ficarra of VJF will create a 20 ft wall of graffiti, a hallmark of the show. For a $5 - $100 donation, during the night and for the duration of the show attendees along with major manufacturers and salons from the Tri-State area, can have their name added to the graffiti wall. At the end of the show, the wall will be photographed and displayed in trade magazines, blogs, and featured on Emiliani's website. Emiliani, a socially responsible corporation, has been the recipient of more than 20 national awards. The proceedings from the graffiti wall will benefit City of Hope, a non-profit foundation dedicated to cancer research.
Special attention will be dedicated to young generations, with the 'Education Rocks' Students Competition. Hundreds of Future Professionals from the Tri-State area are submitting their work in the form of a video accompanied by a 500 word essay. After stringent review by a panel of experts, the finalists will appear on the Main Stage, featuring their work for final judging. The winners will receive cash and education certificates.
"After extensive research, we found that beauty professionals want to be kept abreast of the latest trends and techniques, so we made the focus of the show education," says James Emiliani Founder and Chairman of the company. "Emiliani is dedicated to the beauty professionals and we work very hard to continuously expand our offerings, enabling our customers and loyal partners to take their success to new heights."
The Emiliani Beauty Expo will be held on Sunday, October 10 and Sunday, October 11, from 9 am to 5 pm. Tickets are available at the door, but strictly sold to licensed beauty professionals. For additional information, please call 1- 866 – EMILIANI or visit http://www.emiliani.com/expo2010/ or also http://www.emiliani.com .
# # #