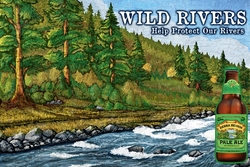 "Healthy rivers are vital to a healthy water future," said Todd Ambs, president of River Network. "Thanks to the support and leadership from Sierra Nevada Brewing Company, rivers across the nation will be protected and restored for all people, fish and wi
Portland, OR (PRWEB) August 19, 2010
This summer, River Network and Sierra Nevada Brewing Co. are helping to preserve vital waterways across the country with the 'Wild Rivers' campaign. This partnership, which also includes the nonprofit Western Rivers Conservancy, is visible at retailers across the nation and aims to raise awareness and increase stewardship of the rivers that sustain our communities.
On account of 'Wild Rivers', grassroots organizations from Alaska to the Chesapeake Bay have already seen an increase in queries from the public on how to get involved in local water protection activities. Distributors, grocers and retailers are also taking initiative in their communities to host local 'Wild Rivers' events.
"Great water is essential to making great beer," said Ken Grossman, Founder and President of Sierra Nevada Brewing Co. "We measure the success of our business not only on the quality of our beer, but also our contribution to a healthy environment."
For every 12-pack of Pale Ale and Sierra Nevada seasonal beer purchased in the U.S. from August 1 through September 17, Sierra Nevada will donate a portion of proceeds to River Network and Western Rivers Conservancy.
"Healthy rivers are vital to a healthy water future," said Todd Ambs, president of River Network. "Thanks to the support and leadership from Sierra Nevada Brewing Company, rivers across the nation will be protected and restored for all people, fish and wildlife, and future generations."
"Sierra Nevada has blazed a trail of environmental stewardship," said Phil Wallin, President of Western Rivers Conservancy. "We are proud to partner with such a great company to advance our mission to protect the great rivers of the West."
River Network has posted links to activities people can do at home and in their yard to save water and energy in order to protect our freshwater resources.
Sierra Nevada Brewing Co. is encouraging the public to upload their favorite river photos on the Wild Rivers Twitter page using #wildrivers.
###