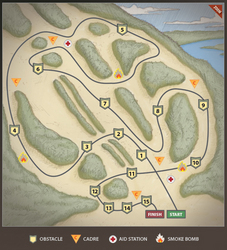 Cadres – or military-style trainers – will be strategically positioned throughout the course to strongly encourage and push athletes to complete their personal mission at the first Shawnee Peak Challenge
Bridgton, ME (Vocus) August 18, 2010
Registration is now open for the first ever Shawnee Peak Challenge, scheduled for Saturday, October 23 in Bridgton, Maine at the Shawnee Peak ski area. With 15 strenuous obstacles, the Shawnee Peak Challenge tests the soul and physical ability of participants from weekend athletes to everyday adventure seekers. Registrants looking for the best one day challenge on the East Coast are invited to experience this military-grade obstacle challenge on the rugged face of Shawnee Peak.
The Shawnee Peak Challenge event organizers hired the most accomplished and uniquely qualified challenge course designer in the business – a retired Special Operations military instructor – with an impressive breadth of military training to develop the obstacle course which includes 15 intense running, climbing, jumping, crawling, core and balancing elements. Whether running up Long Gun Alley or climbing over the Normandy Walls, this event will challenge participants to use physical, mental and emotional skills to power through each obstacle.
"Cadres – or military-style trainers – will be strategically positioned throughout the course to strongly encourage and push athletes to complete their personal mission at the first Shawnee Peak Challenge," said Chet Homer, owner of the Shawnee Peak ski area. "This event takes the best of Special Operations military training techniques and obstacle design and modifies it for a wide variety of athletes wanting to challenge themselves in powerful way. The Shawnee Peak Challenge is perfect for our rugged mountain because it is designed for those who want to truly understand just how far they can push their own physical and mental boundaries."
The Champions heat will culminate at the end of the event and will challenge the top 10 percent of the participants in each division (men's, women's, maters men's and masters women's divisions) for a first, second and third place finish.
When participants complete the Shawnee Peak Challenge, the day is only just beginning. Participants can bask in the beauty of the surroundings, while experiencing premier entertainment, food and drink. This event is also a perfect family affair, as children can feel the pride of completing their own mission with the Mini-Peak Challenge which is a mini-obstacle course adjacent to the Shawnee Peak Challenge.
For over 70 years Shawnee Peak, formerly known as Pleasant Mountain, has been the site for countless winter experiences. Generations have learned to ski and snowboard at Shawnee Peak, as well as off-season, outdoor adventures! Shawnee Peak is the closest large mountain to Portland, Maine and the Seacoast of New Hampshire, is easily accessible from Interstate 95 and is conveniently located 20 miles away from North Conway, which has ample lodging for this event. Only two and a half hours from Boston, the Shawnee Peak Challenge is a fabulous destination for a daytrip and will provide fun for the entire family.
To register for the physical opportunity of a lifetime or for more information about the Shawnee Peak Challenge, visit shawneepeakchallenge.com.
###