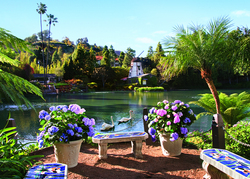 ...that all may feel the unity of a common faith.
Los Angeles (PRWEB) August 20, 2010
Today the Self-Realization Fellowship Lake Shrine marks its 60th anniversary. The beautiful 10-acre spiritual sanctuary and its Mahatma Gandhi World Peace Memorial have drawn millions of visitors from all walks of life since its dedication on August 20, 1950, by the preeminent spiritual figure Paramahansa Yogananda, founder of the international Self-Realization Fellowship (SRF) and author of Autobiography of a Yogi.
A beacon to tolerance and harmony, the SRF Lake Shrine was "created for all religions," said Sri Yogananda during the 1950 opening ceremony, "that all may feel the unity of a common faith." A Court of Religions on the site honors each of the world's five principle religions: Christianity, Judaism, Buddhism, Islam, and Hinduism. Positioned throughout the grounds are statues depicting both East and West, including St. Francis, Kwan Yin, Bhagavan Krishna, and Madonna and child.
During the 1950 dedication ceremonies, a portion of Mahatma Gandhi's ashes was enshrined here in a thousand-year-old stone sarcophagus from China. Sri Yogananda often spoke of Gandhi as an exemplar of how to put spiritual ideals, such as non-violence, into practice. The two leaders from India demonstrated mutual respect for one another's work in the world.
In Pacific Palisades, California, the SRF Lake Shrine sits close to where Sunset Boulevard meets the Pacific Ocean. At its center is the only natural spring-fed lake in the Los Angeles city limits. Wild ducks, great blue herons, and Canadian geese migrate through the spiritual site, and swans, turtles, and koi are more permanent denizens.
This "hidden treasure," as it was described recently by ABC's "Eye on L.A.," is truly a wonder to behold. Its lush, vibrant gardens are populated with plants native to six continents. Other features include an authentic reproduction of a 16th century Dutch windmill, which served as the original chapel; a small mill house, presently serving as a museum; a gift shop; a golden lotus-crowned temple; and a retreat center.
The SRF Lake Shrine (17190 Sunset Boulevard, Pacific Palisades; tel. 310-454-4114; yogananda-srf.org) is open to the public Tuesdays through Saturdays from 9 a.m. to 4:30 p.m., and on Sundays from noon to 4:30 p.m. Inspirational services conducted by members of the SRF monastic community are held Sunday at 9 and 11 a.m., and Thursday evenings at 8 p.m.
ABOUT SELF-REALIZATION FELLOWSHIP
Paramahansa Yogananda, known as the "father of Yoga in the West," founded Self-Realization Fellowship, a worldwide spiritual organization established to disseminate his yoga meditation teachings, in 1920. Headquartered in Los Angeles since 1925, SRF also publishes the complete works of Sri Yogananda, and his monastic disciples. Interest in Sri Yogananda's teachings has grown steadily over the years, with readers of his numerous books and writings on yoga meditation and the spiritual wisdom of the East now numbering in the millions. Today, SRF has more than 600 temples, retreats, and meditation centers in over 60 countries.
Self-Realization Fellowship, 3880 San Rafael Avenue, Los Angeles, CA 90065-3298
tel. (323) 225-2471, fax (323) 225-5088, http://www.yogananda-srf.org.
###