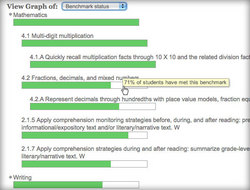 Portland, OR (PRWEB) August 19, 2010
Benchmark Grading is a resource to help teachers, schools, and districts apply modern teaching and assessment techniques while keeping parents and students informed and involved. Today the comprehensive teacher and parent tool suite, including standards-based gradebook, is available for free signup at http://www.benchmarkgrading.com.
The result of a collaboration among teachers and parents in the Portland/Vancouver area, Benchmark Grading applies best-of-breed technology to solving the problems of teachers, parents, and administrators.
*State standards and Common Core standards come pre-loaded, ready to link to assignments
*Teachers can use rubric grading, letter grades, or other grading scales
*Dynamic graphs of mastery by standard enable easy visualization of progress
*At-a-glance display highlights which standards have yet to be taught
*Progress reports including teacher comments and associated skills give parents an understanding of the importance of assignments and the reasons behind grades
*Secure messaging between teachers and parents increases transparency and accountability
*Free access for parents, teachers, and administrators helps school districts bridge their budget gaps while providing the most powerful tools to the education community
View a four minute video demo of Benchmark Grading's features.
About Benchmark Learning Solutions
Built from a teacher's perspective, Benchmark Grading provides the most complete and easy-to-use standards-based gradebook solution available. Benchmark Learning Solutions was founded in 2006 and is located in Portland, OR. For more information contact Sarah McPartland: sarah(at)benchmarkgrading(dot)com or visit us on the web at http://www.benchmarkgrading.com.
###