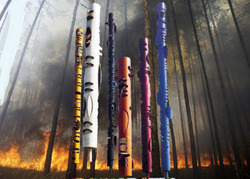 New York, NY (PRWEB) August 22, 2010
Angel Orensanz: Radioactive Flames.
First we saw the Kremlin Square and Saint Basil basilica shrouded in heavy smoke coming from the ground, and the distant burning forests. Then the fires moved South, towards Bielorussia and Ukraine, and brought up to the surface buried radioactive old residues from Chernobil. Thousands of square kilometers of burning forests constitute one of the most frightening sights of our time. The woods in Russia have always exuded an almost mystical emanation perceptible in their painting, music and literature.
Sculptor Angel Orensanz has just arrived from Moscow and St. Petersburg marked with a vision of an unsurpassed human and ecological disaster. As soon as he arrived in Manhattan he hid himself inside his studio on Norfolk Street, a building with 160 years history, the name of which up until the late 1970's was Anshe Slonim (The People of Slonim), the city in Belorussia. It is precisely Bielorrusia, already affected by the nuclear catastrophe of Chernobil, where the fires are the strongest.
Angel Orensanz has erected inside his space a forest like sculptural scape in ardent reds and yellows that emerges from a labyrinth, as well of ardent color. These structures raise forty feet high under a ceiling of blue skies.
Russia is a country specially close to sculptor Angel Orensanz. This country opened.to him ts museums, since a decade ago, to celebrate his art. In 2005 he exhibited at the Alexander Pushkin Museum in Moscow ("Earth: Death/Birth") and at the Museum of Modern Art, "Weightlessness" (2008). These exhibitions in Moscow have always been accompanied by shows in St. Petersburg such as the Rumiantsev Palace (2005), The Ludwig/Russian Museum (2006), and just this last Spring, a large show at the Hermitage Museum. Pointedly enough, the first museum exhibition in Russia was titled "Earth: Death -Birth".
Last spring, the poet Andrei Vosnessensky, died in Moscow. He was an old friend and years ago he dedicated a short poem to welcome Angel Orensanz to Russia for his exhibition:
"The poet flourished here, disheveled.
He would not bow before votive lamps but to the common space….
His back steamed, like a loaf in the oven".
A real prophecy!.
This sculptural construction "Radioactive Fires" will be on, and open and free to the public for two weeks.
Angel Orensanz Foundation
172 Norfolk St. New York, NY 10002 Tel. (212) 529-7194
For more information you can contact Al Orensanz via e-mail to al(dot)orensanz(at)orensanz(dot)org or visit the website of Angel Orensanz.
# # #