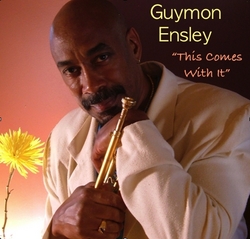 I've selected some of the best musicians in the business to record this material. ~ Guymon Ensley
Detroit, MI (PRWEB) August 23, 2010
At a time when established jazz "groups" are scarce, GEQ is that rare gem that plays classic jazz, bebop and nu-jazz music of the highest artistic order. GEQ has been respectfully likened to Art Blakey's Jazz Messengers as well as Miles Davis and John Coltrane's ensembles continuing the rumbling of excellence through their musicianship and professionalism.
Composer/Trumpeter, Guymon Ensley originally assembled his band in 2001 and debuted it at the historic "Bakers Keyboard Lounge" in Detroit, Michigan in 2002. In August of 2003, the band had four major tours under their belt, billed with such internationally known artists as Yolanda Adams, Jefferey Osborn, The Isley Brothers, The Whispers and Frankie Beverly.
GEQ has worldwide aclaim performing to audiences prestigous venues on numerous islands of Jamaica and aboard luxiurious cruise ships like the Royal Caribbean and Carnival Cruise Lines. Guymon has performed with bands of various genres, from Latin Jazz to R&B, big band to chamber ensembles and solo performances with piano accompaniment. Like a magnet, classic jazz and be-bop kept tugging at his creative wellspring.
In 2006, "Here Put This On," was released containing songs written and originally performed by such legends as Miles Davis, Charlie Parker, Wayne Shorter and Dizzy Gillespie along with three originals. The CD was re-released in 2009 with two more original 'bonus' tracks penned by Ensley.
After receiving a nomination by the Detroit Music Awards in 2006 for 'Outstanding Modern Jazz Group' and 'Outstanding Jazz Composer and Outstanding Jazz Instrumentalist' the following year garnered him yet another nomination for 'Outstanding Modern Jazz Artist/Group.
Ensley is the featured artist on The Jazz Network Worldwide the week of August 23-29, 2009 and giving a glimpse of what's to come to his fans in the jazz community and beyond of his current single "Where Am I Going With You?" from his upcoming release "This Comes With It". Guymon looks forward to traveling the world with his band and playing all the great music in his catalogue as well as the new music he has up his sleeve.
To learn more go to http://www.geqjazz.com.
###