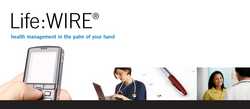 We hope to complete our data collection in 2011.
Ellicott City, MD (Vocus) August 22, 2010
Hazelden Foundation, a not-for-profit alcohol and drug addiction treatment center, is launching a clinical research study to measure the effectiveness of therapeutic text messages to support its treatment and recovery management efforts. The pilot study will focus on sending motivational text messages via cell phones to young adults enrolled in alcohol and drug dependence recovery programs. The interactive communication platform is provided by the Banyan Group and LifeWIRE® alliance. A wide range of health conditions can be managed using the proprietary web and cellular-enabled messaging technology and population management application.
"Recovery management is critical to maintain gains among those in treatment for substance use disorders. We're excited to test the impact of motivational text messages on continuing care compliance among young adults in our program," said Valerie Slaymaker, Ph.D., Chief Academic Officer at Hazelden. "We hope to complete our data collection in 2011."
Howard Rosen, MBA, CEO of LifeWIRE, notes, "Our interactive messaging platform is designed to be easily integrated and customized into the daily routine of program participants like Hazelden and other treatment or health management programs. The LifeWIRE platform enables caregivers or the patients themselves to keep the content of the messages timely, fresh and engaging."
Dr. Roger Cady, CEO of Banyan Group, adds, "We were pleased to use our expertise to help design this clinical study with Hazelden, a world class recovery organization, utilizing this unique technology."
Among other LifeWIRE system attributes, the innovative Hazelden study also will test the benefit of a "helpline" that is initiated by program participants who can send a text message that generates a timely follow-up by a case manager back to each individual. In addition, program participants will receive a return text message offering them some immediate feedback and notifying them that their text has been received.
About Hazelden (http://www.hazelden.org)
Hazelden, a national nonprofit organization founded in 1949, helps people reclaim their lives from alcohol/drug addiction. Built on decades of knowledge and experience, Hazelden offers a comprehensive approach to addiction that addresses the full range of patient, family and professional needs, including treatment and continuing care for youth and adults, research, higher education, public education and advocacy, and publishing. It currently has facilities in Minnesota, Oregon, Illinois, New York and Florida.
About LifeWIRE (http://www.lifewiregroup.com)
LifeWIRE® is a mobile communications and health information solution provider (based in Toronto, Canada and Annapolis, Maryland). LifeWIRE's patent-pending technology turns a standard cellular phone into a health management tool. Its patient-friendly wireless solution incorporates remote management and monitoring systems that facilitate proactive management of disease conditions and promotes wellness through virtually any mobile system in the world.
About Banyan Group, Inc. (http://www.clinvest.com)
Clinvest, a division of the Banyan Group Inc. seeks to improve patient outcomes and wellness. Banyan brings best-in-class healthcare technology solutions to the marketplace. It consists of two divisions: Clinic -- Headache Care Center (HCC); and Research -- Clinvest. HCC and Clinvest have combined research and clinical practice to offer an integrated approach to healthcare. Knowledge gained through research ensures up-to-date treatment is available to our clinical patients.
###