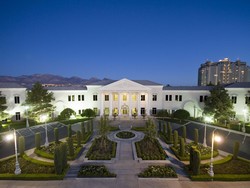 Long-term Safety of Testosterone and Growth Hormone Supplementation: A Retrospective Study of Metabolic, Cardiovascular and Oncologic Outcomes.
Las Vegas, NV (Vocus) August 24, 2010
Cenegenics® Medical Institute, the global age management leader, collaborated with Dr. Enrique Ginzburg—professor of surgery at the University of Miami - Miller School of Medicine—to investigate the safety of long-term testosterone and growth hormone use. Their much-awaited study finally gives the public good news on the safety of hormonal therapy.
Accepted for publication, the investigators' favorable findings are being published in the August 2010/Volume 2 Journal of Clinical Medicine Research in an article entitled "Long-term Safety of Testosterone and Growth Hormone Supplementation: A Retrospective Study of Metabolic, Cardiovascular and Oncologic Outcomes." The retrospective study is the second paper Ginzburg has done on hormonal therapy with the global leader's nonprofit Cenegenics Education and Research Foundation.
"The study is notable because Cenegenics has some of the longest duration of hormone modulation data in the nation, thanks to their extensive patient population. Unlike other studies that claimed adverse effects from hormone modulation and subsequently sparked controversy, our collaborative papers, although retrospective, are provocative in that minimal significant adverse effects occurred within the two-year therapy," Ginzburg said.
The study authors concluded that testosterone and/or growth hormone supplementation did not adversely affect metabolic (i.e. glucose metabolism, cholesterol, triglycerides, hemoglobin A1c levels) or clinical outcomes (i.e. prostate disease, diabetes, cardiovascular disease, cancer) during a one- to two-year period, based on 794 treated Cenegenics patients.
In fact, the overall incidence of adverse clinical outcomes in 531 patients treated for at least one year was only 1.3%.
The only significant effects on lipid metabolism markers were decreases in total cholesterol and low-density lipoprotein (LDL) in patients receiving combined testosterone and growth hormone without statins. Decreases in LDL were significant in both the statin and non-statin groups; decreases in triglycerides were significant only in the statin group.
Cenegenics' pioneering efforts in the new field of age management medicine—a preventive approach for optimized health versus the traditional reactive/disease-focused approach—have garnered attention the world over. A component of their medical approach is to recognize hormonal balances as key to the physical, mental and emotional deterioration in the aging population, says Robert D. Willix, Jr, Chief Medical Officer (CMO) for Cenegenics Medical Institute and CEO/CMO of Cenegenics Boca Raton.
"Our retrospective study confirms there is a safety in the appropriate use of hormonal therapy under medical supervision to achieve hormonal balance. Cenegenics always has based its therapies on principal, where we provide a preventive approach when evidence-based medicine assures our therapies are both safe and efficacious. Underscoring that, Cenegenics has a strong commitment to align itself with medical universities who are interested in investigating the field of age management/preventive medicine. We greatly appreciate the excellent efforts of Dr. Enrique Ginzburg at the University of Miami - Miller School of Medicine in compiling this study," Willix said.
For more information about Cenegenics, please visit http://www.cenegenics.com. Register for quick access to the informative Guide to Healthy Aging, Executive Summary and media excerpts. To schedule an interview, please contact Ann Castro, Cenegenics Director of Media Relations: 702.953.1588.
About Enrique Ginzburg, MD, FACS
Dr. Ginzburg is Professor of Surgery, Division of Trauma and Surgical Critical Care at the University of Miami - Miller School of Medicine. He also holds secondary appointments with the Departments of Anesthesia, Neurological Surgery and Family Medicine. Dr. Ginzburg is the Medical Director of the University of Miami - Miller School of Medicine International Health Center as well as the International Director of CEDECEM, an organization developing the trauma delivery system for Argentina. He received his medical degree from the University of Miami School of Medicine, then completed a fellowship in vascular surgery at the Vascular Surgeons of Central Ohio and a residency at the University of Miami/Jackson Memorial Medical Center. Following the earthquake in Haiti on January 12, 2010, Dr. Ginzburg was one of the first responders to arrive in Haiti and currently serves as the Chief Medical Officer for the University of Miami Global Institute / Project MediShare. He has published extensively on a variety of topics in noted medical journals.
About Cenegenics
Cenegenics® Medical Institute—the recognized leading authority in age management medicine—offers their highly regarded approach to optimal health at these centers nationwide: Las Vegas, Nevada (Cenegenics Las Vegas and Cenegenics-Life Center); Charleston, South Carolina; Boca Raton, Florida; Dallas, Texas; Fort Worth, Texas; Atlanta, Georgia; Chicago, Illinois; Los Angeles, California; Philadelphia, Pennsylvania; Washington, DC; New York City, New York; Tulsa, Oklahoma; Jacksonville, Florida. Additional centers are scheduled to open in other metropolitan areas in the near future. With an established presence in the medical community, Cenegenics uses a proactive approach based on solid science and comprehensive evaluation. Their established protocols have been recognized as the next generation of medical science, capturing global attention. Cenegenics offers CME-accredited physician training and certification opportunities in age management medicine via the nonprofit Cenegenics Education and Research Foundation (CERF). Headquartered in Las Vegas, Cenegenics serves more than 20,000 patients worldwide—2,000 are physicians and their families.
###