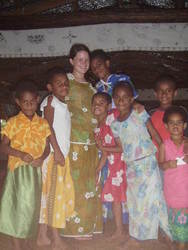 A community is an important place to belong and our students love the country, communities and cultures of Fiji with passion and dedication.
Denver, CO, USA (PRWEB) August 25, 2010
North American university students studying abroad in Fiji at the University of the South Pacific (USP) recently spent three days laboring beside residents of the remote Sote Village to plant a large garden to supply lunch food throughout the year to the children of Sote Village School.
The group of 10 students and two AustraLearn staff arrived July 17 in Sote Village with seeds, gardening tools and strong backs to establish a garden growing produce not normally found in the area, including watermelon, pumpkin, cucumber, cauliflower, Chinese cabbage, eggplant, okra, bell peppers, carrots, spring onions, radishes and cherry tomatoes.
"Our AustraLearn semester-abroad student volunteers worked side by side with the people of Sote Village and Sote Village School to learn about the lives of the Fijian people and promote the bond between student and host country," said Shelia Houston, director of AustraLearn's South Pacific Educational Support Centre in Queensland, Australia. "The weekend was an outstanding success and the students were welcomed into the village completely."
The initial Sote Village garden planting is the beginning of a twice-yearly community service effort by AustraLearn students to tend and maintain the garden. In addition, donations were raised by AustraLearn staff to provide teaching tools to the school.
The goals of the project include:

supplying lunch food throughout the year for the students - Form 1 through Form 8 (first through eighth grade) - who attend Sote Village School.
enriching the cultural experience of both the North American AustraLearn participants and Sote Village students.
breaking down cultural misconceptions in both directions.
underscoring for the AustraLearn participants the benefits of contributing time, energy and talent to a charitable cause.
"This was a truly hands-on project that everyone found personally fulfilling," Houston said. "Our students lived on site with the Sote community during our stay. They enjoyed sharing meals and playing games, soccer and other sports. The farewell was very emotional for the children, the AustraLearn students and staff, and the villagers – everyone had tears."
The community service project is one of the unique volunteer abroad programs offered by the AustraLearn / AsiaLearn / EuroLearn international education programs of Westiminster, Colo.-based GlobaLinks Learning Abroad, which annually sends more than 3,000 students abroad.
AustraLearn in 2007 opened its semester-abroad program at the University of the South Pacific (USP) in Suva, Fiji. It now sends 15-20 students a semester to the island nation, with participants experiencing a six-day Culture and Adventure Program to introduce them to local customs and culture. Students also are provided access to many travel and cultural opportunities along with their schooling, and 24-7 access to an AustraLearn resident director to assist them with any needs or emergencies.
"A community is an important place to belong," Houston said, "and our students love the country, communities and cultures of Fiji with passion and dedication."
About GlobaLinks Learning Abroad:
GlobaLinks Learning Abroad, based outside Denver in Westminster, Colo., is a leading provider of education abroad programs for college-level students in destinations across the globe. Students from more than 800 universities and colleges across North America choose to study with GlobaLinks Learning Abroad each semester via its educational programs:

AustraLearn, with semester and year abroad, internship, and summer programs in Australia, New Zealand and Fiji via 35 partner universities, and degree programs in Australia and New Zealand at more than 30 institutions through DegreesOverseas.com.
AsiaLearn, with semester, year, and summer programs in China, Hong Kong, Japan, Malaysia, Singapore, South Korea and Thailand via nine partner universities.
EuroLearn, with semester, year, and summer programs, including research abroad, in the Czech Republic, England, Germany, Greece, Scotland, Wales, Ireland, Italy, and The Netherlands via 17 partner universities.
Since it was founded in 1990, GlobaLinks Learning Abroad has sent more than 20,000 students on educational programs worldwide. For more information, visit GlobaLinksAbroad.org or check out the latest news on our programs and partners at GlobaLinksNewsWire.com.
###