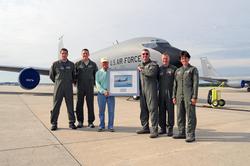 Families with one or both parents deployed make unique sacrifices, for which they should be recognized and rewarded
Bridgton, ME (Vocus) August 25, 2010
Shawnee Peak issued more than 300 complimentary season passes to members of the military during the 2009-10 ski season. In an effort to thank America's deployed soldiers, sailors and other military personnel, Shawnee Peak has issued more than 2,000 free season passes since 2003.
"Families with one or both parents deployed make unique sacrifices, for which they should be recognized and rewarded," said Chet Homer, owner of Shawnee Peak. "I feel that private industry should take every opportunity to thank the deployed military member and their family. We hope we lead the way in this endeavor."
New England is full of military installations – from Maine's Brunswick Naval Shipyard to New Hampshire's Pease Air National Guard and Massachusetts' Hanscom Air Force Base. Shawnee Peak would like to offer these season passes to any family affected by America's continued international and homeland security deployments.
On July 23, 2010, Members of New Hampshire's Air National Guard, based at Pease Air Force Base in Portsmouth, presented Chet Homer with a signed photograph, thanking him for the complimentary passes.
"I hope that Mr. Homer enjoyed his time here [at Pease] as much as we enjoyed being able to explain to him our mission," said Darik C. Day, Major, New Hampshire Air National Guard. "On behalf of the 157th Air Refueling Wing, I want to thank all the great staff at Sahwnee Peak and Mr. Chet Homer for the outstanding support."
This year, in addition to those deployed to Iraq, Afghanistan and other foreign countries, many members of the Coast Guard are eligible for the program as they fight the Deepwater Horizon oil spill on the Gulf Coast.
Shawnee Peak also offers heavily discounted season passes - just $250 per person - for members of the military (who have not been deployed recently) and their dependents. This is a discount of up to 65%.
If you or someone you know has been or will be deployed in United States military service (private contractors are not eligible) between the dates of December 2009 and March 2011, please call 207-647-8444 or e-mail ski(at)shawneepeak(dot)com to apply for the complimentary season pass.
###