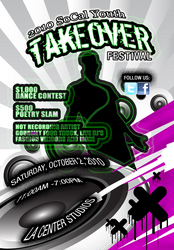 Studio City, CA (PRWEB) August 25, 2010
Loose Ends Events & Marketing, LLC today announced that the First Annual SoCal Youth Takeover Festival will take place on Saturday, October 2 from 11AM to 7PM at the Los Angeles Center Studios located at 500 S. Beaudry Street in downtown LA. The SoCal Youth Takeover Festival is a one day outdoor event developed to educate, embrace, support and celebrate the Southern California youth and young adult initiative while providing much needed assistance to several local non-profit youth based charities. Pre-sale tickets for this festival are available for purchase online for $10 General Admission or $25 VIP and will be sold at the event for $15 GA and $30 VIP.
An anticipated crowd of nearly 10,000 trendsetting, music-loving, social networking, fashion savvy, fully wired youth and young adults are expected to participate in the festivities. This family friendly event will be packed with entertainment including: a $1,000 Dance Contest; a $500 Poetry Slam; live performances by popular recording artists; giveaways; public speakers; informational and promotional booths and clothing vendors.
Serving up great grub will be SoCal's best and most popular gourmet food trucks to offer a variety of delicious meals throughout the day. Crepes Bonaparte and Nana Queens, featured contestants on the Food Network's Amazing Food Truck Race, will be serving food along with Sweets Trucks, Lee's Philly, Maui Wowi, Calbi, The Place, Fox Pizza Bus, Kabo n Roll, Fish Lips, Tasty Meat, Krazy BBQ, Kabob Express, Vizzi, Gourmet Genie and Tapa Boy to create a mouth-watering international food fair.
All net proceeds from this event will benefit five deserving 501(c)3 nonprofit organizations that focus on our SoCal youth and young adults. The Los Angeles Youth Network's mission is to end homelessness one kid at a time by empowering abused, neglected and homeless adolescents to become self-sufficient. The Inner City Kitchen is a culinary program whose main goal is to alleviate low self-esteem due to food related disorders among inner city youth, young adults and families in LA County. Together We Rise is comprised of motivated young adults whose vision is to improve the lives of foster children who often find themselves forgotten and neglected by the public. The Reading Writing It's Exciting program's purpose is to mentor 2nd graders in the Los Angeles area who need extra help in writing and reading. Students who participate in this program have achieved great success and continue to excel in school. The Eating Well Foundation's focus is providing healthy food to Los Angeles shelters, soup kitchens and food banks.
The SoCal Youth Takeover proudly supports these charities who tirelessly work to improve our community and make a difference in as many lives as possible. For more information please visit http://www.ytofestival.com and http://www.twitter.com/youthtakeover.
# # #