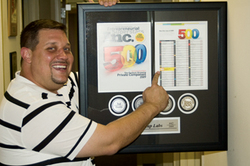 Farmingdale, NY (PRWEB) August 25, 2010
Nutricap Labs, a leading provider of nutraceutical manufacturing services such as contract manufacturing, packaging and labeling and order fulfillment is pleased to announce that it has been named to the Inc. 500 | 5,000 list for a second consecutive year.
The Inc. 500 | 5,000 was originally introduced by Inc. Magazine in 1982. The list is compiled according to percentage revenue growth over a four-year period. Companies must be independent, privately held and based in the United States in order to qualify for selection.
Nutricap Labs, ranked the 413th fastest-growing, privately held company in America by Inc. Magazine, increased its revenue from $2.2 million in 2006 to nearly $18 million in 2009; an overall growth of 714%. Nutricap Labs was also ranked the 39th fastest-growing private company in the New York area and was ranked the 27th fastest-growing company in the health industry. The Company is no stranger to this prestigious list. Last year, Nutricap Labs was ranked the 42nd fastest-growing company in America, the 3rd fastest growing company in the health industry and the 4th fastest-growing company in the New York-Northern New Jersey-Long Island, NY-NJ-PA area after experiencing an overall growth of 2,900% during the years of 2005 to 2008.
"When we made the Inc. 500 for the first time last year, one of the first things I noticed when I looked at the list was the number of companies that had made the list more than one year. I knew that Nutricap Labs was capable of achieving this honor as well. Going into 2010, one of my foremost goals was taking the steps that I felt were necessary to ensure that Nutricap Labs made this list for a second consecutive year", said Jason Provenzano, Founder and President of Nutricap Labs.
Provenzano added, "To be named to this list for a second consecutive year is truly remarkable and is a true testament to not only our team, but to our loyal customers as well. We are extremely proud of this accomplishment and we are looking forward to making this list for a third time next year."
To thank its customers for their continued patronage and to help improve their product marketing efforts, Nutricap Labs is offering to design 1,000 8 x 10 promotional flyers for free when a customer manufactures 2,000 or more bottles with them. The offer starts today and ends on Thursday, September 30th. Click this link to learn more about this special promotion and to submit your free quote request.
About Nutricap Labs:
Nutricap Labs is a full service vitamin supplement manufacturing service. We primarily manufacture nutritional tablets, capsules, powders, liquids and creams, but we also offer label and packaging design services and order fulfillment services to our customers. For information about our full line of nutraceutical manufacturing solutions, visit our website or call 1-800-494-6154 to speak to one of our knowledgeable production advisors.
###