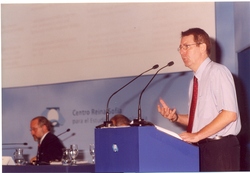 We aim to gather together this information, ensure its quality, and make it widely available.
(PRWeb UK) August 25, 2010
A central database for carers of people with dementia is being developed by Staffordshire University (http://www.staffs.ac.uk) and partners from around Europe.
Over €500,000 has been granted by a European funding body to develop the database, which will include advice, guidance and films to help carers.
STAR (Skills Training and Re-skilling for Carers of People with Dementia) has been sponsored by the European Commission Lifelong Learning Leonardo programme.
Professor Paul Kingston, Director of the Centre for Ageing and Mental Health (http://www.staffs.ac.uk/schools/health/ihr/camh/) at Staffordshire University, is leading the research and development of materials that will be made available through the database. He will be assisted by Professors Benbow and Tadros, also from the University.
He said: "There are six million carers in the United Kingdom alone – and many more millions across Europe – and there are resources available to help them but there is no central repository for those caring for people with dementia. And then there is the issue of how good the quality of these resources is.
"We aim to gather together this information, ensure its quality, and make it widely available."
He added: "There are seven other partners involved – from Malta, Romania, Spain, Netherlands, Italy and Ulster and the lead from Sweden.
"Our role will be designing the content, alongside the University of Amsterdam, and ensuring that the quality of that content is good. Others will be using their expertise to develop the interface."
In 2012 the electronic resource will be launched with a major international conference at Staffordshire University with groups such as Alzheimer Europe and Age UK – with the final launch throughout Europe aimed at 2015.
Professor Kingston said: "STAR will contain a range of courses, information on what dementia is and how to care for people with dementia, and all accessible through an online interface.
"This is thinking towards the future, as older people are increasingly using new technology in their everyday lives."
###