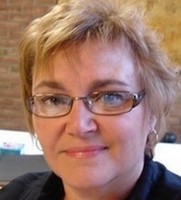 One day, we looked at each other over lunch and said, 'Why don't we do what we love – help businesses see that art at the office is a real need and a major part of employee and client retention
Ann Arbor, MI (Vocus) August 25, 2010
"Surveys show that 78% of employees agree art in the workplace reduces their stress level at the office," says Diane Bennett, artist and owner of Budding Art Ideas, a company she co-founded with fellow business woman and art and design consultant, Joy Naylor.
In 2008, these two business women and art curators for some of the largest corporations in America decided to take their entrepreneurialism to a new level, and reinvented themselves. "One day, we looked at each other over lunch and said, 'Why don't we do what we love – help businesses see that art at the office is a real need and a major part of employee and client retention," says Diane.
"In all of our client relationships – from small businesses to Fortune 500 companies – we aim to show businesses how necessary it is for them to be more conscious of the ways they are influencing others, positively or negatively, by their work atmosphere," says Joy. "When you bring energy and education to the work place through art, your employees – and clients – gain a whole new appreciation for your quality of environment, which, in turn, makes them much more comfortable and confident doing business with you."
That initial lunch started a catalyst of events that have launched Diane and Joy into the area's must-see consultants on art in the workplace. "We came up with the very successful idea of rotating the work of local celebrity artists throughout several venues in the community," says Joy. "This helps the business get exceptional, quality art displays at a reasonable price, and it facilitates the artist' work, getting them exposure to a wider audience. We use our interior design and art skills when working with our clients, by showing them what's right and what's wrong with their work space. We help them set a budget, suggest certain pieces that would go in certain areas, and even place art they already have."
At their core, Joy and Diane are artists, with a message to companies across the country, "Our message is that it is great business to incorporate art into your environment," says Diane. These savvy business women get their message out with their two different companies. Distinct Designs is the arm through which they consult companies on any or all of the following: space planning (including managing all of the components of the interior) choosing and maneuvering workplace furniture, renovating the space, procuring the art, and much more. Budding Art Ideas is the arm through which they facilitate their first-rate art retreats and workshops.
"The art workshops are our latest venture – we recruit renowned instructors from all over the country and create an environment where artists are immersing themselves in their creative world for 3-5 days," says Diane. "Some of the workshops we've already offered include: Art Quilts, Fiber Art, Encaustics, Oil Painting, Watercolor Painting, Photography, Water Media, Pastels, and Color Pencils, among others. The primary venue for the workshops is the beautiful University of Michigan Botanical Gardens in Ann Arbor."
"Additional attractions to the workshops include: a guest speaker that addresses business and marketing issues specific to artists; and, added value items for non locals coming to the event, who want to make this more of a retreat for themselves," says Joy.
"In whatever capacity we are serving others through our different businesses, we see ourselves as a conduit – of art, business, women in business, and entrepreneurs," says Diane.
About Diane Bennett: Diane Bennett, owner of Budding Art Ideas, has an extensive background as a corporate interior designer, art curator, art consultant, landscape designer, and account executive. An enthusiasm for visual art developed as Diane worked as an art curator, for Pfizer Global Research in Ann Arbor. She provided rotating art exhibits and events in the Pfizer's five art gallery areas. As an Ann Arbor, MI native, Diane has a love of Michigan and feels the Ann Arbor community has so much to offer. After attending an art workshop at the Nancy Crow Barn she realized that the experience of the workshop environment is bliss! So she has put her passion into hosting art workshop retreats in Ann Arbor, as well as still working as an art consultant. Diane says that it is so wonderful for her to get up in the morning and love going to work, and is grateful for the opportunity to be surrounded by art and wonderful art minded people.
About Joy Naylor: Since establishing Distinct Designs, Inc., an art consulting, interior design, and construction management firm, Joy has directed design projects for over 28 years. She is a NCIDQ certified designer and is a professionally certified Feng Shui practitioner. As an interior designer, Joy has always been involved with art. She became greatly immersed in all forms of art as co-curator with Diane at Pfizer in Ann Arbor. Joy says that something magical happens when a group of creative people come together – and that each time it is unique and unforgettable. She considers it a privilege to play a part in making these educational and fun retreats happen.
To inquire about bringing Diane and Joy in as consultants, or to inquire about one of their Budding Art Ideas workshops, please contact Diane and Joy directly at diane(at)distinctdesignsinc(dot)com or 734.417.3824.
###