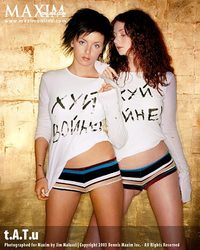 World's biggest music sensation to ever come out of Russia.
San Francisco, CA (PRWEB) August 26, 2010
Lena Katina of t.A.T.u. announces the launch of her solo music career with her first major show in the United States, headlining Summer Climax 2010 music festival on September 17, 2010, at San Francisco's legendary 1015 Club.
t.A.T.u. has been Russia's biggest musical export and most sensational Russian duo for over a decade. Songs like "All The Things She Said" and "Not Gonna Get Us" launched Lena Katina and Yulia Volkova to the top of the international music scene in late 2002 and they have sold close to 10 million albums to date. Known for their shocking videos and performances, the girls garnered attention from the media and fans alike and made history as Russia's scandalous fake lesbian duo. The two diminutive, talented beauties have been known for causing worldwide commotion, with controversial appearances on The Tonight Show with Jay Leno, Jimmy Kimmel Live, and MTV Video Music Awards, routinely playing to audiences of 50,000+ fans, and topping the international music charts before going on hiatus in 2009.
Today Lena Katina has matured into a widely respected artist and performer, with her trademark angelic voice and long red hair. She is currently working on her debut album together with t.A.T.u.'s original live band and she intends prove that she is here to stay.
On September 17 Lena Katina will headline Summer Climax 2010 - her first major live solo show, performing new original singles and t.A.T.u. hits. Presented by NovoeRadio.com and Krakadil Presents, Summer Climax 2010 is an all-night music event that will also feature San Francisco's best known DJs: Frenchy Le Freak, Trevor Simpson, and Aykut. Event sponsors include The San Francisco Bay Guardian, Novoe Radio, and SF Station. VIP packages include the opportunity to meet and mingle with Lena Katina. Tickets and event details can be found at http://www.SummerClimax.com
About NovoeRadio.com: #1 Russian radio station in the United States.
About Krakadil Presents: San Francisco's largest Russian-European event producer.
For press inquiries and interview requests, contact:
Nikita Kozlovskij
Novoe Radio LLC
T: (408) 857-8337
E: nikita(at)novoeradio(dot)com
###