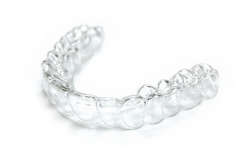 Houston, TX (PRWEB) August 25, 2010
Over the next three days, the Discovery Channel will begin airing a special episode of Health Heroes focused on dental innovations, including a segment on clear aligner therapy. The episode educates viewers about clear aligner therapy, a popular teeth-straightening alternative to metal braces, and also explores how orthodontic manufacturers such as ClearCorrect are making the procedure simpler and more affordable to the public.
The episode premieres on both the East and West Coast at 7 a.m. on Thursday, August 26, 2010 on the Discover Channel. It will re-air on Dish Network Channel 225 on Friday August 27, 2010 at 10 pm EST, 7 pm PST and on the Discovery Channel via DirectTV on Saturday, August 28, 2010 at 10 pm EST, 7 pm PST.
Clear aligner therapy is an orthodontic treatment involving a series of clear, removable aligners that gradually move teeth to improve aesthetics and bite function. The technique, often referred to as "invisible braces" is becoming increasingly popular with the public and a key growth area for dentists looking to add services.
The Health Heroes episode features dental industry innovators, including ClearCorrect founder Willis Pumphrey, DDS, and how he, along with input from other dentists, worked to create a more patient and doctor-friendly alternative to more costly clear aligner choices on the market.
In the clear aligner process, ClearCorrect receives the patient's records from their general dentist or orthodontist and creates exact 3D models of the teeth. Working with a doctor, ClearCorrect then maps out a complete treatment plan of gradual adjustment, then manufacturers and delivers the clear aligners used in the procedure.
Clear aligners are designed to be worn at all times, except while eating and drinking or during daily tooth care. Because they are clear, they are much less noticeable than metal braces.
For doctors interested in learning more about clear aligner therapy, ClearCorrect will be at two upcoming dental conventions. It will be at the California Dental Association (CDA) convention in San Francisco, CA on September 9-11, 2010 at Booth # 736 and at the American Dental Association (ADA) convention in Orlando, FL on October 9-11, 2010 at Booth #1244.
For more info, call 888-331-3323 toll free; visit http://www.clearcorrect.com; or write to ClearCorrect, Inc. at 5200 Mitchelldale St., Suite F-26, Houston, TX 77092.
###