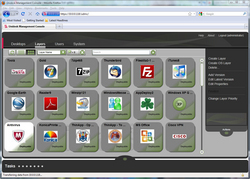 "Unidesk Makes VDI, Better"
Marlborough, MA (PRWEB) August 26, 2010
Unidesk is fast emerging as the companion virtual desktop management platform for VMware View, Citrix XenDesktop, Pano Logic, and other Virtual Desktop Infrastructure (VDI) access solutions. By simultaneously providing the 100% persistent personalization needed to make the VDI user experience acceptable to all types of office workers, together with the storage efficiency needed to make VDI affordable, and the single image management needed to simplify desktop provisioning, patching, and application delivery, Unidesk is enabling customers and channel partners to achieve greater VDI success. Unidesk is showcasing its virtual desktop management software under the theme, "VDI, Better," at VMworld 2010 in Booth 1727 from August 30-Sept. 2 at the Moscone Center in San Francisco.
Unidesk Composite Virtualization technology is at the heart of the Unidesk platform, and offers an entirely new approach to managing desktops. Traditionally, desktops boot from a C: drive, typically a mishmash of Microsoft Windows, IT-delivered applications, user-installed applications, user data and user profiles. As end users and desktop administrators make changes to this monolithic image, desktops gradually degrade and become harder to patch and repair. With Unidesk, desktops boot from a virtual C: drive comprised of independently managed, cleanly separated "layers." IT creates single pristine layers of Microsoft Windows and standard applications. End users make whatever changes they desire in their personalization layers. Unidesk dynamically composites these layers at boot time into unified storage. Because of this innovative layering approach:

Unidesk is the first to sustain all user customizations – including user-installed applications, user installed plugins (e.g. Google Toolbar), profile changes, documents, Microsoft Windows SIDs, and application GUIDs – through desktop logouts, reboots, and Windows updates. This 100% personalization results in a better end user experience and greatly expands the use cases for VDI.
Unidesk is the first to package and deliver any application, including antivirus, VPN, Adobe Acrobat, and others with system services and boot-time drivers that traditional application virtualization cannot.
Unidesk reduces VDI storage requirements up to 70%, since one gold image of Microsoft Windows and single instances of standard applications can be shared across many desktops.
Unidesk greatly simplifies creating, patching, and updating VDI desktops. Administrators simply select the application and O/S layers they want for one or many users, and all desktops are guaranteed to receive the new layers on the next reboot.
Unidesk was recently listed on popular virtualization industry news site virtualization.info as the only vendor in the Application Virtualization category "Worth Watching," and one of only three vendors across all virtualization product categories with this new rating: http://virtualization.info/en/radar/
Unidesk installs as a set of software-only virtual appliances on existing VMware infrastructures, including VMware ESX 3.5 and VMware vSphere 4.x and above. Unidesk desktops are seamlessly accessed through existing VDI connection brokers.
Visit Unidesk at VMworld Booth 1727 to see how Unidesk works with VMware View, Citrix XenDesktop, Pano Logic and other VDI access solutions for better VDI.
About Unidesk
Unidesk (http://www.unidesk.com) provides the virtual desktop management software platform that enterprises of all sizes require for desktop virtualization success. The company's patent-pending desktop layering technology integrates with VDI access solutions from VMware, Citrix, and other vendors to sustain personalization for workers who need a customizable user experience, while empowering IT with a more efficient way to create and update desktops and manage of operating systems and applications. Unidesk customers benefit from increased worker productivity and reduced IT operations and data center storage costs. Unidesk is a privately-held company with worldwide headquarters in Marlborough, Mass.
Unidesk® is a registered trademark and Composite Virtualization and CacheCloud are trademarks of Unidesk Corporation. All other trademarks and registered trademarks are property of their respective owners.
###