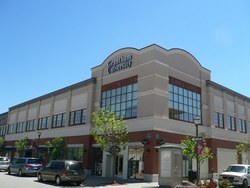 Kansas City, MO (PRWEB) August 27, 2010
Five years after the devastation of Hurricane Katrina in the Gulf Coast region, Grantham University, an online university dedicated to providing educational opportunities to working adults, is thriving in its new home in Kansas City, Mo. Grantham University was located just outside of New Orleans, La., when many of its buildings were destroyed by Hurricane Katrina on August 29, 2005. Out of necessity, Grantham immediately relocated to Kansas City to continue serving its base of students located around the globe.
"The University owes a great deal of gratitude to the Louisiana employees who relocated with the University, the citizens and businesses of Missouri, and the Missouri Department of Higher Education for their generosity and support," said Dr. Cynthia Hoss, president of Grantham University. "Without their help, we would not have been able to accomplish the almost insurmountable task of reestablishing the University in Missouri, just eight days after the Hurricane."
Because of the University's quick actions, dedicated staff, and its nationwide network of faculty, the institution continued to function and service students around the United States and other countries with minimal interruption.
"The knowledgeable personnel at Grantham were always helpful and accessible to me, even through tough times such as Hurricane Katrina," said Lieutenant Junior Grade Christopher Martin, a Grantham University graduate. "During the time of the hurricane, I submitted a semester final that week and although the school was badly damaged by the hurricane, the staff of Grantham managed to support me when I felt they were of the greater need."
From its home in Missouri, Grantham University continues its mission of providing accessible, affordable, professionally relevant degree programs in a continuously changing global society. Nearly sixty years old, Grantham University was founded in 1951 by Donald Grantham, a veteran of World War II, to help prepare veterans for new jobs in the electronics' industry and a better future upon their return to civilian life. Today, the University supports thousands of online students in 36 different associate, bachelor's and master's degree programs.
At its annual Commencement Ceremony held earlier this month, the University recognized the accomplishments of 1,155 graduates from the Class of 2010. One-hundred and seventeen graduates traveled to Kansas City to attend the ceremony and more than 700 family members and guests were present.
For more information about the University and its online degree programs, visit: http://www.grantham.edu.
About Grantham University:
Established in 1951, Grantham University is a private institution that specializes in online education for the working adult student. Its mission is to provide accessible, affordable, professionally relevant degree programs in a continuously changing global society. The University prepares graduates for careers in business, engineering technology, computer science, criminal justice, healthcare, nursing, information technology and other professional fields. Grantham University offers a military scholarship program for active duty, reserve, guard, veterans and military family members, as well as scholarships for law enforcement professionals. Grantham's courses are 100% online, allowing students to study at home, at work, on Temporary Duty (TDY) or from almost anywhere in the world. Accredited since 1961 by the Accrediting Commission of the Distance Education and Training Council, Grantham University has compiled a distinguished record as a respected and accredited distance learning university spanning six decades of service to education. For more information, visit http://www.grantham.edu or call 1-800-955-2527.
###