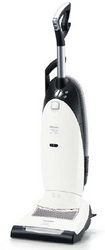 The best vacuum I ever had. Quiet & powerful. My son's allergies have improved and the house doesn't smell like wet dog!
(PRWEB) August 31, 2010
Formerly a staple of their European product line, the Miele Cat & Dog S7260 Vacuum is a part of Miele's ground-breaking entry into the upright vacuum market and their first pet hair-cleaning vacuum released in the U.S.
The S7260 is part of the Miele S7 Upright Vacuum Cleaner Series and lists for $649.00. It combines strong suction power and maneuverability while also being extremely quiet. All S7 Series vacuums include the following features:

In addition to these features the Miele Cat and Dog Upright Vacuum also comes with:
Automatic carpet height adjustment
Dual charcoal (AAC30) and standard air filters to further eliminate pet odors circulated while vacuuming
Handheld Turbo Brush (STB101) with an articulating brush head that cleans deeply in hard-to-reach places
LED guide light for maximum visibility
Miele S7 Series Overview
Currently, there are many vacuum models to choose from in the Miele S7 series. Each model's feature set varies with the price:
1. Miele Twist 7210 ($429.) – Standard S7 Series Vacuum
2. Miele Jazz 7280 ($549.) - All Twist Features + Automatic Adjusting Vacuum Head, Hepa Filter & LED Guide Light
3. Miele Cat & Dog 7260 ($649.) - All Jazz Features + Charcoal Filter to remove odors and STB101 Handheld Turbobrush
4. Miele Bolero S7580 ($799.) - All Jazz Features + Automatic Suction Adjusting and +/- Power Controls
Who should buy this product?
The Miele Cat and Dog S7260 Upright Vacuum is great for pet owners and allergy suffers. The addition of the AAC30 charcoal filter helps remove odor from the air. The handheld turbobrush allows you deep clean stairs and other remove locations.
Pros
Strong suction and very quiet
Automatically adjusts to height of carpet
Extremely maneuverable
Large 5.45 quart Vacuum Bags (Miele Type U Airclean Bags)
Charcoal filter eliminates odors
Handheld turbobrush provides deep cleaning in hard to reach places
Cons
Rotary dial requires user to stop vacuuming to change suction speed
Heavier than a canister vacuum for lifting up stairs
Relatively expensive
About evVive Home Appliances
Drawing inspiration from traveling, living abroad and always returning home, evVive - ev (Home in Turkish) Vive (Live! in French) - was launched in the summer of 2008 to celebrate home, life and living. To enhance your home and surroundings, we sell a wide range of quality brand-name products from environmentally friendly, energy-efficient appliances to vacuums to gifts that celebrate any living style. evVive.com compliments our 16 year history in servicing customers with premier home appliance brands.
Knowing these products will be part of your home for years to come, we pride ourselves on a premier online shopping experience, expert advice and unrivaled customer service. We continue to go through intensive product training, more than any other appliance and electronic store, to help you make an informed decision.
###