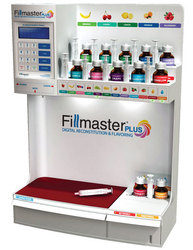 The Fillmaster PLUS represents a giant leap forward in reconstitution and flavoring technology for pharmacies
Columbia, MD (Vocus) August 27, 2010
FLAVORx Inc., the pediatric prescription flavoring and compliance experts, and Fillmaster Systems, producers of advanced pharmaceutical reconstitution equipment, are showcasing their jointly developed Fillmaster PLUS digital reconstitution and flavoring device at this year's NACDS Pharmacy & Technology Conference in San Diego, California.
"The Fillmaster PLUS represents a giant leap forward in reconstitution and flavoring technology for pharmacies," said Stuart R. Amos, President & CEO of FLAVORx. "The Fillmaster PLUS drives efficiency and error-reduction behind the counter by integrating intuitive design with NDC bar code scanning. It also facilitates flavoring, which leads to better medicinal compliance."
The Fillmaster PLUS combines the unique aspects of what Fillmaster Systems and FLAVORx offer into a powerful leading-edge piece of pharmacy equipment. Pharmaceutical reconstitution, which in many cases is a manual process, is now accomplished at the push of a button with the new machine. When a prescription bottle is scanned using the Fillmaster PLUS, the unit instantly displays the medication's name, volume, strength and the amount of purified water it needs for reconstitution. This process reduces the risk of dispensing errors, as there is essentially an extra set of eyes in the pharmacy. At the same time, reconstitution is accomplished in a matter of seconds, for extremely efficient pharmacy work-flow.
If a customer has chosen to have a prescription flavored to improve the medication's taste and smell, the Fillmaster PLUS gives pharmacy team members access to flavoring formulations specific to that medication. Again, efficiency in the pharmacy is maximized due to the integrated flavoring recipes, flavoring storage and workspace. Said Amos: "We are excited to showcase this powerful new machine to our existing and prospective customers at NACDS Pharmacy & Technology."
The Fillmaster PLUS digital reconstitution and flavoring device will be displayed and demonstrated at the FLAVORx booth, #526, at the NACDS 2010 Pharmacy & Technology Conference in San Diego, California, August 29-31.
About FLAVORx Inc.
FLAVORx is a health care company, based in the Baltimore / Washington D.C. area, that has been helping people take their medicine since 1994. The FLAVORx Pediatric Flavoring System is available in nearly 40,000 locations across the country, including CVS, Walgreens, Rite Aid, Target, Walmart & Publix pharmacies to name a few. Using FLAVORx's copyrighted flavoring recipes, pharmacists have safely flavored over 40 million prescription and over-the-counter medications for children, making it easier for them and their parents to deal with the stresses of being sick. Pill Glide, FLAVORx's newest consumer product, expands their medication compliance focused offerings and continues the company's mission of improving lives and health-related outcomes through higher adherence. For the latest company news, follow FLAVORx on Facebook.
About Fillmaster Systems
Fillmaster Systems is a provider of pharmaceutical water purification & reconstitution products including the patented Fillmaster system for pharmacies. Since 1992, they have been dedicated to quality, reliability, accuracy and integrity. Today, their advanced technology has made them a leader in pharmaceutical water purification & reconstitution in the United States and around the globe.
# # #