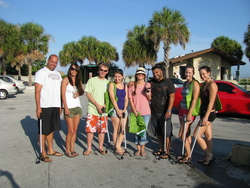 Fund raising money is great, but so is getting people involved with hands-on charity and community service work
Tampa, FL (PRWEB) August 30, 2010
A.M.I., a Tampa-based sales and marketing office, announced they supported the Tampa Bay Beautification organization, an organization that is committed to improving Tampa Bay's neighborhoods, parks, and streetscapes. Since 1989, the Tampa Bay Beautification has recruited 60,000 volunteers and counting.
President of A.M.I., Vanessa Castaneda McCaffrey, and the A.M.I. team cleaned up as much trash as they could off of Indian Rocks Beach, FL. The A.M.I. team contributed a lending hand in the Tampa Bay Beautification's on-going project of shore line restoration and contributed towards the over 1.2 million pounds of litter, debris, and invasive plants that have been removed by this organization.
"Fund raising money is great, but so is getting people involved with hands-on charity and community service work," said President Vanessa Castaneda McCaffrey. "More people become aware of what's going on around them and it also brings the office closer together."
The A.M.I. team chose to help out Tampa Bay Beautification because they were looking for an organization that knew what they wanted to get accomplished in the world and how they were going to do it. Moreover, Tampa Bay Beautification was a finalist for Non-Profit of the Year, which intrigued Vanessa Castaneda McCaffrey and her team. They wanted to do something fun and enjoyable, while giving back to the community.
"It's important to set an example for future entrepreneurs to give back to the community," Vanessa Castaneda McCaffrey said.
Follow A.M.I. on Facebook.
About A.M.I.
A. M. I. is one of the leading firms in the Tampa bay area that specialize in marketing and sales. Our innovative and proven business models have pushed us time and again to the forefront of a highly competitive marketing industry. For more information please contact at (813) 289.6111
###