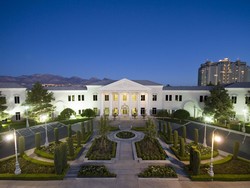 While this scientific review confirms that cardiovascular disease is one of the major components of erectile dysfunction, we have to next focus on the psychological and social effects of cardiovascular disease, which is often ignored in the male population
Las Vegas, NV (Vocus) August 30, 2010
Cenegenics® Medical Institute, the global age management leader, collaborated with Dr. Ernst R. von Schwarz—Medical Director of the Multidisciplinary Heart Failure Research at Cedars Sinai Medical Center—to address an increasingly common problem in the aging male population: Erectile dysfunction as a complication of heart failure. Their recently published scientific paper/expert review gives men hope for better treatments that minimize erectile dysfunction side effects. Current Heart Failure Reports published the paper, entitled "Erectile Dysfunction as a Complication of Heart Failure."
Heart failure alone has dramatic effects on a man's lifestyle and mood. Erectile dysfunction—associated with chronic heart failure, either as an epiphenomenon or early marker for underlying cardiovascular disease—escalates those effects, often leading to poorer quality of life and depression. The prevalence of erectile dysfunction is astounding, per recent studies: 67% of men aged 65 years and older. And for men with heart failure, Schwarz says the stats jump significantly higher to a whopping 84% in men over 59 years old.
"Heart failure is also associated with depression, which of itself has an association with sexual dysfunction, especially in men. On the other hand, several drugs used for either heart failure or depression can negatively affect sexual performance. Yet, with a multidisciplinary-team approach and targeted drug therapy, these side effects can often be overcome—and sexual function successfully treated even in patients with advanced cases of heart failure," Schwarz said.
However, there have been challenges. Per Schwarz, physicians in clinical practice often don't address sexual dysfunction issues and patients don't discuss the problem with their cardiologist.
Nonetheless, good news remains. Schwarz says that in the currently published paper as well as numerous other publications from his group, it could be demonstrated that quality of life can be significantly improved with adequate treatment of sexual dysfunction in patients with heart failure.
Physicians, per the study authors, should address these issues and optimize heart failure management while also minimizing medications having erectile dysfunction side effects. According to the study, phosphodiesterase-5 inhibitors significantly improve erectile dysfunction issues and quality of life.
"While this scientific review confirms that cardiovascular disease is one of the major components of erectile dysfunction, we have to next focus on the psychological and social effects of cardiovascular disease, which is often ignored in the male population," Robert D. Willix, Jr., MD said.
Willix is co-author on the study, a former cardiovascular surgeon and chief medical officer of Cenegenics Las Vegas as well as chief medical officer and CEO of Cenegenics Boca Raton.
"Cenegenics would like to embark on future studies to evaluate if our evidenced-based therapies for the healthy population will also benefit those individuals who have already suffered from cardiovascular and other critical maladies," Willix said.
Per Willix, the global age-management giant Cenegenics is looking forward to future prospective, collaborative studies with major centers such as Cedars Sinai - UCLA to further evaluate Cenegenics' clinical approach to preventive medicine.
For more information about Cenegenics, please visit http://www.cenegenics.com. Register for quick access to our Healthy Aging Kit, including an informative Guide to Healthy Aging, Executive Summary and media excerpts. To schedule an interview, please contact Ann Castro, Cenegenics Director of Media Relations: 702.953.1588.
About Ernst R. von Schwarz, MD, PhD, FESC, FACC, FSCAI
Schwarz is board certified in internal medicine by the American Board of Internal Medicine and in cardiology/cardiovascular diseases by the American Board of Internal Medicine. His primary clinical interests are end-stage heart failure, cardiac transplantation, interventional cardiology and sexual function in cardiac disease. He currently is the Medical Director of the Multidisciplinary Heart Failure Research Program Cedars Sinai Medical Center in Los Angeles, CA and a professor of medicine at UCLA. As a clinician and scientist, Schwarz has written more than 100 articles for peer-reviewed publications and has written 10 book chapters on cardiovascular medicine.
About Cenegenics
Cenegenics® Medical Institute—the recognized leading authority in age management medicine—offers their highly regarded approach to optimal health at centers nationwide: Las Vegas, Nevada (Cenegenics Las Vegas and Cenegenics-Life Center); Charleston, South Carolina; Boca Raton, Florida; Dallas, Texas; Fort Worth, Texas; Atlanta, Georgia; Chicago, Illinois; Los Angeles, California; Philadelphia, Pennsylvania; Washington, DC; New York City, New York; Tulsa, Oklahoma; Jacksonville, Florida. Additional centers are scheduled to open in other metropolitan areas in the near future. With an established presence in the medical community, Cenegenics uses a proactive approach based on solid science and comprehensive evaluation. Their established protocols have been recognized as the next generation of medical science, capturing global attention. Cenegenics offers CME-accredited physician training and certification opportunities in age management medicine via the nonprofit Cenegenics Education and Research Foundation (CERF). Headquartered in Las Vegas, Cenegenics serves more than 20,000 patients worldwide—2,000 are physicians and their families.
# # #