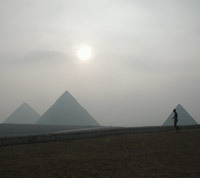 The journey really had an uplifting effect on my life. The energy and benefits of the trip seem to still be unfolding and my soul is grateful.
New Milford, NJ (PRWEB) August 31, 2010
Due to popular demand, Spirit Journeys has scheduled a second Journey to Egypt in 2011. Their first Journey to Egypt in early April of 2011 sold out and has a waiting list.
Spirit Journeys is a gay travel organization that specializes in spiritual travel, retreats and workshops, primarily for the Gay Community. Their travel journeys however, such as the Journey to Egypt, are open to everyone, gay or straight.
This journey is not removed from the "real" Egypt. You will journey into the wonders, mysteries and the people of Egypt by going behind the scenes. Your time in Egypt will be filled with expeditions to temples and sacred sites beginning at the Giza Plateau, then traveling the Nile from Luxor to Aswan and culminating back at the Giza Plateau.
This is not an ordinary vacation to Egypt. Spirit Journeys makes special arrangements to be allowed inside the Great Pyramid and to stand between the paws of the Sphinx (access inside the Great Pyramid and to the Sphinx are off limits to the general public and have been for many years). Also included is a private visit to the Isle of Philae and the Temple of Isis at sunrise. These are just some of the many opportunities that wait for you on this incredible travel adventure.
The journey starts in Giza, with a stay at the historic Mena House Oberoi Hotel. This palatial hotel, in the shadow of the Pyramids, has enchanted guests since 1869. Located on forty acres of jasmine scented gardens, the Mena House Oberoi has played host to kings and emperors, Heads of State and celebrities.
This journey also includes seven nights/eight days sailing the Nile on your own private dahabiya (a luxury sailing yacht). This is a very relaxing way to experience Egypt. A dahabiya is river-going sailboat, much like what would be called a sailing yacht these days. They were common in Egypt in the days of the monarchy (1920s-40s) when aristocrats and sophisticated travelers loved to cruise the Nile in style. With no motor (and the associated noise and diesel fumes), a dahabiya provides a leisurely pace, with time to drink in the landscapes and peruse the monuments and villages on the riverbanks. There are only 10 cabins onboard, so the maximum group size for this journey is only 16 participants. Typical Nile river boats have 50 cabins or more, so this is a wonderfully intimate approach to sailing the Nile. Also, because a dahabiya is so much smaller than the usual large river boats that cruise the Nile, you can sail much closer to the banks of the Nile, bringing Egypt right to your finger tips as you lazily drift by. The size of a dahabiya also allows stopping at many places too small for river boats to dock.
Conscious travel through the ancient land of Egypt and her wondrous archeological sites provides maximum opportunity for disconnecting from daily life and concentrating exclusively on the spiritual aspect of life. This pilgrimage is designed to provide a backdrop for continuing spiritual advancement with like-minded people in a supportive nurturing environment. To support this end, simple rituals are held at various locations to bring deeper understanding into the core of your experience. The group periodically joins in meditations and ceremonies to access the hidden mysteries of these powerful sacred sites. There is no place like Egypt, and no doorway into her mysteries like a Spirit Journey.
For additional information on this special gay travel, or any other events, contact Howie Holben or visit http://www.spiritjourneys.com .
About Spirit Journeys:
Spirit Journeys offers gay vacations and retreats that offer spiritual growth & self-discovery, unique gay retreat and vacation options. Call (800) 754-1875 to learn more about Spirit Journeys.
# # #