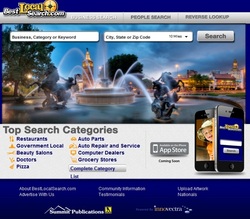 Extending the Yellow Pages across multiple channels to connect consumers with local merchants is an important distribution strategy.
Kearney, MO and Lansdowne, VA (PRWEB) August 31, 2010
Summit Publications, Inc. a leading independent directory publisher of over 670,000 "White Book" community telephone directories in the Greater Kansas City Metro and surrounding area has launched its new Internet platform. The company's web site, located at bestlocalsearch.com, was developed by Summit Publications, Inc. and Innovectra Corporation--a software services pioneer of web, mobile and local search solutions.
Summit directory users now have online access to business listings and Yellow Pages for local merchants and service providers through BestLocalSearch.com. "Our goal is to become the favorite local shopping destination within the communities we serve," said Todd Hageman, General Manager at Summit Publications. "Innovectra is helping us execute a multi-dimensional plan that enables our directory information to be discovered online via search engines, mobile devices and social networking sites," he added.
The new site features business, category or keyword search applications with reverse lookup, and easy access to popular search categories like restaurants, health & beauty, autos and doctors.
"Extending the Yellow Pages across multiple channels to connect consumers with local merchants is an important distribution strategy," stated Thomas C. Lewis, Innovectra president and CEO. "We are excited to be working closely with the Summit management team because they fully embrace this approach," he added.
Innovectra offers a comprehensive, turn-key solution to media publishers--complete with Internet Yellow Pages search applications, advanced online directory features including videos, web sites, search engine marketing and reputation management services for local businesses. The company is providing Summit Publications with search engine optimization services to enable Internet users to find local merchants via search engines in and around the communities where the "White Books" are published.
About Summit Publications, Inc.
Summit Publications, an ADP Partner Member, was founded in March 2003. Corporate headquarters are located in Kearney, Missouri and satellite offices are maintained in Overland Park, Kansas and Independence, Missouri. The company currently publishes 16 community focused directories in Blue Valley, Bonner Springs, Miami County, Olathe and Shawnee Mission, Kansas, along with Blue Springs, Cass County, Gladstone, Kearney, Lee's Summit, Liberty, Independence, Midtown KC, Platte County, Raytown and St. Joseph Missouri. The consistent return on investment that Summit provides to its advertisers has fueled Summit's growth, success and expansion. Two additional community directories will soon be added for Johnson County and Cameron/Chillicothe, Missouri, and BestLocalSearch.com is being launched to answer the needs of today's electronic users.
About Innovectra.
Innovectra provides "world class" web, mobile and social network based local search solutions for online directory publishers. One of the first companies to create electronic directories, Innovectra currently provides a complete suite of interactive digital media products and services that "optimize" and "monetize" local search including ActivImpact, ActivDirectory, web services and reputation management. For more information, visit the Innovectra Corporation web site at http://www.innovectra.com
###