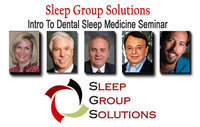 Our dental sleep medicine program has been overwhelmingly successful
Miami, FL (Vocus) August 31, 2010
Emerging field in dentistry primed to save the lives of millions
Dentistry has rapid evolved into a health centered practice in recent years. The mouth is the gateway to many other problems, and in some cases it's also the cure. Obstructive sleep apnea is a life threatening condition affecting tens of millions of Americans. Research has called it one of the greatest undiagnosed health risks in our society. It has been documented in medical literature as the cause of countless conditions like; hypertension, cardiovascular disease, diabetes, Alzheimer's disease, acid reflux and headaches while being linked as a major contributor to heart attacks and strokes. Dentists are now able to work with their medical colleagues to help manage this deadly condition by fabricating oral appliances to stabilize the airway and prevent breathing stoppages during sleep. The American Academy of Sleep Medicine recently revised their medical practice parameters recognizing appliances as a viable first line treatment for sleep apnea and medical insurance plans now routinely cover the costs associated with this treatment.
Sleep Group Solutions is a medical technology and continuing education company focused on educating and training dentists to be able to offer this service in their practice. As the largest dental sleep medicine company they are able to provide continuing education seminars nationwide and have developed unique and proprietary technology and protocols to assist dentists with the treatment of sleep apnea. http://www.SleepGroupSolutions.com
"Our dental sleep medicine program has been overwhelmingly successful" says Sleep group Solutions President Rani Ben-David "We are now working full time to expand the SGS network with new initiatives creating referral relationships between our dentists and hundreds of sleep labs and sleep physicians working with us nationwide." To find more clinicians visit http://www.1800sleeplab.com
Unlike virtually all other seminars being offered on the subject Sleep Group Solutions is not a dental lab and their instructors do not have a vested interest in one specific appliance. "We take a big picture approach and cover all the basics from initial screenings to diagnosis and proper records. Information is presented in a step-by-step protocol designed so that attendees can immediately return to their practice and begin using what they've learned" Sleep Group Solutions Seminars are expending to Europe and the Middle East in the next few months while CEO Tamir Cohen is in Europe finding the right partners.
In our seminars you will learn about appliances from Glidewell Dental http://www.Glidewelldental.com and Respire Medical http://www.respiremedical.com
Visit http://www.sleepseminars.com for more information on dental sleep medicine seminars.
###