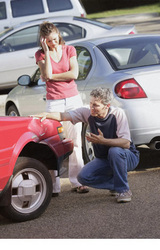 Applebys Solicitors applaud any innovation which speeds up the process of delivering compensation to the innocent victims of road traffic accidents.
(PRWeb UK) September 2, 2010
Applebys Solicitors are among the very first law firms to participate in the New Claims Process scheme for Road Traffic Accident (RTA) claims. The new plan, introduced by the Labour Party, aims to speed up the personal-injury claims process for any RTAs occurring after 30th April 2010. The scheme is anticipated to help car accident victims claim compensation both faster and easier by computerising much of the process.
Applebys Solicitors are leading the way in embracing this technological development. The Applebys team have already begun using the new process to transmit electronic claim forms directly to insurance companies. Mr. Amin Ullah, Applebys' Principal Solicitor, stated that Applebys "applaud any innovation which speeds up the process of delivering compensation to the innocent victims of a Road Traffic Accident" and look forward to delivering the best settlements possible under the new, faster system.
The New Claims Process and its potential impact on consumers have raised some concerns among special interest groups, including the Association of Personal Injury Lawyers, the Bar Council, and the Law Society. However, Applebys are again leading the way to make sure that this system works for their clients. Ullah emphasises that Applebys lawyers are keen to ensure that client's best interests are not overlooked in the pursuit of rapid settlements. He states, "We at Applebys have built into this new processes fail safe checks and measures to ensure that the maximum amount of compensation is obtained for the client."
Electronic claims filed under the new process are best handled by specialist solicitors such as Applebys, with registration and log-on information for the system, as claim clarity and knowledge of the process are critical in making the system work.
As well as road accident compensation claims, Applebys also handle work accident claims, hearing loss claims, serious injury claims, and more. To report your accident directly to Applebys call 0274-728-838.
###