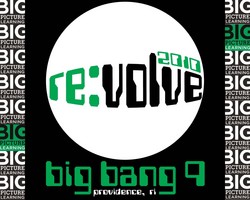 I gladly would like to thank the Big Picture for helping me understand that I can be the change in this world and for showing me that education is the most powerful weapon that can be used to change the world.
Providence, RI (Vocus) August 31, 2010
Each year since 2002, staff members from the Big Picture Learning network of schools have gathered for a summer professional development session to improve their understanding of the Big Picture Learning design, share best practices, psych themselves up for the school year ahead, and strengthen their relationships with other schools. An enduring piece of Big Picture Learning's professional culture, the non-proft is proud to announce the success of its ninth Big Bang that celebrated its fifteenth year as a national, and now international, network of schools.
Last week, over 200 staff members, students, and administrators from the United States, Australia and Canada gathered in Providence, Rhode Island to take part in Big Bang 9, four days of training that offered Big Picture Learning's own unique blend of professional development, training, and culture-building. It was a valuable foundational experience for those opening new Big Picture Learning schools in the Fall 2010, a learning opportunity for those interested in incorporating the BPL design into their current work, and a great opportunity for those educators new to the BPL network who want to learn more.
In addition to a beneficial professional development and collaboration opportunity, Big Picture Learning also utilized this gathering of professional educators to honor three Big Picture Learning graduates for their outstanding achievements both in school and post-high school. Mia Lombardi, a graduate of the Met School in Providence in 2000, was an outspoken student committed to defending the welfare of those who were unable to fight for their own rights. Presently, she has become an ardent and vocal supporter of alternative education in her community. La Creelin Shaneice Caton, a graduate from the San Diego Met School in 2010, was the first in her family to finish high school, be accepted to and attend college. Currently, La Creelin is attending the University of California, majoring in Biology, and is focusing on her studies as she was granted a full merit scholarship. Finally, Christopher Pride, a 2006 graduate from Big Picture Learning's Denver school and a recent college graduate, credits his advisor as the person who redirected his life, helped him value his own potential. Pride writes "I gladly would like to thank the Big Picture for helping me understand that I can be the change in this world and for showing me that education is the most powerful weapon that can be used to change the world."
Big Picture Learning touts a highly-praised and innovative school design grounded in personalization and real-world learning opportunities that has been successfully implemented in grades K-12 with incredible results. This design is applicable and beneficial for all students, both at-risk, over-age, and/or under-credited as well as gifted and talented youth. The Big Picture Learning design is presently being implemented in over seventy schools across eighteen states. In addition, Big Picture Learning has developed approved A-G alignment matrices, enjoys a partnership with the University of California system, and can offer powerful programming ideas that may meet requirements for Education Stimulus funding, Race to the Top and i3 funding. Big Picture has also started College Unbound, using its philosophy to engage and graduate high percentage of first generation students. According to Newsweek, "Some problems call for unique solutions. Big Picture is an idea that works."
Presently, Big Picture schools average a 93% attendance rate. In the 2006-2007 school year, the Big Picture Learning network achieved a 92% graduation rate across its schools (compared to 52% nationally). Big Picture graduates are members of the U.S. demographic groups who are the least likely to complete high school, enroll in college, or attain postsecondary degrees (85% of BPL schools receive Title I funding; 66% of students are eligible for free/reduced lunch); however, in the 2006-2007 school year, 95% of students were accepted into college (compared to 45% nationally).
About Big Picture Learning:
The Big Picture Learning design is a dynamic approach to learning, doing, and thinking that has been changing the lives of students, educators, and entire communities since 1995. According to Newsweek, "Big Picture is revolutionary change." All of components of the design are based on three foundational principles: first, that learning must be based on the interests and goals of each student; second, that a student's curriculum must be relevant to people and places that exist in the real world; and finally, that a student's abilities must be authentically measured by the quality of her or his work. Hallmarks of the Big Picture design include small schools, close relationships with a four-year peer group and advisor (teacher), and individualized curricula that arise from student interests and tie to extensive internships under expert mentors.
# # #