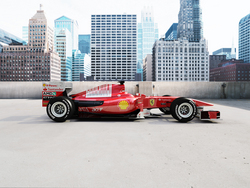 "The HDRE moofe Kit is the best of both worlds; top-quality professional photography and the limitless flexibility of CG," said Chris Morris, CGI Director at Giannini Creative.
Mountain View, CA (PRWEB) August 31, 2010
As the demand for clear, creative and futuristic images for advertisements and marketing content continues to grow, so has the bond between photography and computer generated imagery (CGI). In recognition of this, Luxology, creators of modo® 401 and the Studio Lighting & Illumination Kit (SLIK), and moofe, the leading supplier of location-based photography for CGI imagery, have teamed up to offer a special collection of CG-ready imagery called the high-dynamic range environment (HDRE) moofe Kit.
moofe, based in the UK, has radically simplified the process of lighting scenes with photographic backdrops by providing this critical information as a high dynamic range image (HDRI) alongside the company's CG-ready backgrounds. The HDRE moofe Kit has been further optimized for modo 401 users and will help propel the fusion between photography and CGI by revolutionizing how high quality images for print, outdoor and internet advertisements are created.
"moofe has been championing the implementation of HDRI into CGI for years because we realized early on it's the future of photorealistic CG image production," said Eoin O'Connor, CEO at moofe."Our ethos is that this doesn't need to be complex - working with companies like Luxology who share this vision is perfect as it means modo users can easily bring together the ease and quality of moofe imagery with modo's creative tools."
Chris Morris, CGI Director at Giannini Creative, argues that more and more organizations are waking up to the near-limitless creative potential of CG combined with the photorealism HDRIs provide. "The HDRE moofe Kit is the best of both worlds; top-quality professional photography and the limitless flexibility of CG," he said. "A big challenge in print advertising comes from incorporating CGI elements into photography in a convincing way and modo, along with the HDRE moofe Kit, really enhances our ability to bring these two worlds together."
The HDRE moofe Kit is a diverse collection of high-dynamic range panoramas and render-ready background plates that, through an easy to use drag-and-drop interface, provide modo users with a simple way to place 3D models into a variety of locations for stunningly convincing renderings. The Kit contains over 100 photographs from five different locations: desolate beach, abandoned industrial building, rooftop parking lot, mountain road and urban park, all shot on Hasselblad H3D cameras and backs.
The Kit utilizes HDRI as a means for perfectly reproducing the lighting at any given location, thus integrating CG elements into the scene perfectly. A high-resolution panoramic image from each location additionally provides for accurate reflections and refractions of light in the scene, making mirrored surfaces such as car hoods and sunglasses reflect the environment accurately.
"The magic of the HDRE moofe Kit is that we are able to provide artists with all the control of 3D renderings combined with the gorgeous and gritty backgrounds shot by moofe," said Brad Peebler, president of Luxology. "Luxology shares the same deep commitment to quality as moofe, and we're excited to see the dynamic images that are bound to be produced through this new partnership."
Availability
The HDRE moofe Kit is available immediately for the suggested retail price of USD $195. modo 401 is required to use the kit, and the software is sold and supported by a network of authorized Luxology resellers around the globe.
Learn more about Luxology's HDRE moofe Kit by visiting http://www.luxology.com/store/hdre03_moofe/.
About Luxology
Based in Mountain View, Calif., Luxology® LLC is an independent technology company developing next-generation 3D content creation software that enhances productivity via artist-friendly tools powered by a modern underlying architecture called Nexus®. Founded in 2002 by Allen Hastings, Stuart Ferguson and Brad Peebler, Luxology is home to some of the top 3D engineering expertise in the industry. More information on the company, its licensable Nexus technology, its flagship product modo® and a gallery of artists' images from the active modo community is available online at http://www.luxology.com.
About moofe
moofe is the most comprehensive source of photography for use in computer-graphics (CG) imagery. Our skilled photographers travel the world to capture entire locations in full detail, with each package including a perfectly matched high dynamic range image (HDRI) to guarantee realistic lighting and reflection detail. moofe's ease of use, from exploring and licensing imagery online to seamless integration into existing workflows, saves time and money throughout the creative process. moofe is the brainchild of award-winning commercial photographers Douglas Fisher and Carl Lyttle, who between them have more than 50 years experience in creating compelling imagery. For more information, visit http://www.moofe.com.
© Copyright 2010 Luxology LLC. modo and Nexus are registered trademarks of Luxology LLC., in the USA and/or other countries.
© Copyright 2010 Moofe Limited. All products or brand names mentioned are trademarks or registered trademarks of their respective holders.
For more information, press only:
Liaison Inc.
Lizzie Bennett, (503) 796-9822, lizzie(at)liaisonpr(dot)com
Reader contact:
Luxology LLC
2525 E. Charleston Road, Suite 104
Mountain View, CA 94043
(650) 336-1380
info(at)luxology(dot)com
http://www.luxology.com
moofe
14a Dufours Place
Soho
London
W1F 7SN
US: +1 2132 339 401
Europe: +44 2030 260 057
info(at)moofeZ(dot)com
http://www.moofe.com
###