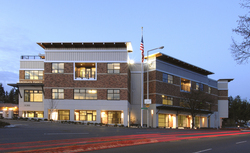 "We want to make it easy for our patients" says Dr. Wangen.
Seattle, WA (PRWEB) September 20, 2010
After 5 years of successfully treating patients, the IBS Treatment Center is moving to a new building. "We want to make it easy for our patients" says Dr. Stephen Wangen, founder of the IBS Treatment Center. The new location, in a newly constructed professional building offers street level entry, free garage parking, and a very convenient location.
The IBS Treatment Center has been serving patients in a clinic located in the Nordstrom Medical Tower at Swedish Medical Center. Due to the density in that location traffic, parking, and elevators could double the amount of time a patient needed to devote to their appointment. "Because our patients come from across the country and around the world, we felt that moving away from the crowded First Hill area of Seattle would be more convenient" says Dr. Stephen Wangen. The new facilities are in the Northgate Pointe building, an architectural award winning building in the north Seattle medical district. There are 2 hospitals within a mile, and numerous other professional medical buildings throughout the area.
Another factor in the decision was cost. The IBS Treatment Center has not increased consultation fees since opening 5 years ago. By moving to the new facility during this challenging time for commercial real estate, the clinic has been able to prevent significant increases in rent costs, and thus avoid increases in fees to patients. "Insurance companies and many medical practices have been increasing costs. We have been working hard to keep from raising our fees." says Dr. Wangen.
Patients visiting the new clinic facilities will find them easy to reach from the I-5 Interstate and from state highways 99 and 522. The address of the new clinic is 11300 Roosevelt Way NE Suite 100 Seattle, WA 98125. The entrance to the clinic and the parking garage are on Pinehurst Way NE, which is a wide, 4-lane arterial on the SE side of the building.
About IBS:
IBS is defined by symptoms that include: abdominal pain or discomfort associated with either diarrhea, constipation, or both, and often with gas, or bloating. It affects up to twice as many women as men, and is second only to the common cold as a cause for worker absenteeism. Up to 20 percent of the population suffers from IBS, according to the National Institutes of Health. A collection of relevant peer-reviewed research on the causes of the symptoms that make up IBS is available at Innate Health Foundation Research Page.
About the IBS Treatment Center:
The IBS Treatment Center is a medical clinic in Seattle, Washington USA. It is proud to serve patients from across the North America, as well as those who have chosen to travel from as far away as Thailand and New Zealand. With a focus on IBS and related digestive disorders, the IBS Treatment Center achieves unmatched success in treating patient diagnosed with IBS. Information about the clinic is available online at http://www.IBSTreatmentCenter.com.
About Dr. Stephen Wangen:
Dr. Stephen Wangen is a state licensed and board certified physician. He received his doctoral degree in naturopathic medicine from the internationally renowned Bastyr University. He specializes in digestive disorders and food allergies and has first-hand experience with IBS, having been diagnosed with it in 1994. He subsequently cured his digestive problems by correctly diagnosing and treating the physiological conditions causing his IBS symptoms. Due to a long history of success in treating common digestive disorders and the tremendous need for a clinic focused on the treatment of digestive disorders and irritable bowel syndrome, he founded the IBS Treatment Center in 2005, where he serves as the Chief Medical Officer. He wrote the groundbreaking book on treatment of IBS -The Irritable Bowel Syndrome Solution; and the 2009 award winning book - Healthier Without Wheat: A New Understanding of Wheat Allergies, Celiac Disease, and Non-Celiac Gluten Intolerance.
Dr. Wangen serves on the Board of Trustees for the Gluten Intolerant Group of North America, a nonprofit organization dedicated to supporting and advocating for people with gluten intolerance. He is also the Research Director for the Innate Health Foundation, a public charity devoted to supporting the IBS and food allergy communities through education, research, and financial support.
###