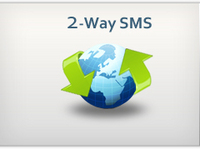 We at www.smstoalert.com intend to provide high quality routes at reasonable prices to our customers to connect with their associates worldwide. We assure you any customizations required to be done free of cost..
(PRWEB) September 14, 2010
SmsToAlert offers Bulk Messaging Service for its customers. Our Bulk SMS sending platform has been devised for composing, scheduling and delivering text messages with, invitations, seasonal greetings, bulk notifications and alerts, business promotional advertisements, advertisement campaigns, updating customers of special offers, product promotions etc.. You can set all these messages from your pc to mobiles, individually or as group wise.
SMS is a popular and a very simple technique to stay updated with your employees, clients, friends and relatives. Without even intruding the personal space of user, you have the wonderful option to put the message across.
Above all the sms messages reach the intended audience causing them no trouble. You do not need have or acquire any technical skills to use our application. Customers are entitled to all special features like Sender Names, Group messaging, Sub User Accounts, Excel Plug in for bulk messaging and detailed delivery reports etc. absolutely free of cost.
Above all SmstoAlert.com platform offers unique features :
Multilingual SMS : Our customers can send SMS messages in their own languages. With SmsToAlert.com you can send SMS in any language other than English (e.g. Arabic, Chinese, Hebrew, Hindi, Thai, and other European and Asian languages etc). This feature makes it a unique product for businesses located anywhere in the world!
International SMS : With a single account with Smstoalert.com customers are able to send text messages to almost every country in the world. As on date the network covers aound 600 mobile networks across the world. This is a unique international messaging platform.
2 Way SMS: A Virtual Mobile Number (VMN) enables your organisation (or application) to receive inbound SMS text messages from almost any mobile user on any mobile network, worldwide. A VMN resembles an 11 or 14 digit mobile number and is designed to receive SMS text messages without the need for a GSM terminal or SIM card.
Web sms: Web SMS gives you the complete freedom to send text messages from anywhere in the world where you have access to a Web browser and Internet connection. Regardless of whether you use dial up, broadband, T1 or a corporate network, http://www.smstoalert.com web SMS service offers you rapid and reliable sending of text messages to mobile users in over 700 mobile networks in 200 countries
Live Support: SmstoAlert.com provides 24 X 7 live chat support to help you with all queries. Our Technical support also is available on 24 X 7 basis for the registered users.
###