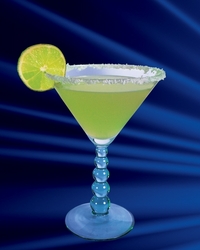 We love Mexico's culture and traditions, without them we wouldn't have tequila
New Orleans, Louisiana (PRWEB) September 13, 2010
September 16, 2010 marks the year of Bicentennial Celebrations in Mexico, commemorating 200 years of independence from Spanish rule. In Mexico, it is customary to gather on 16 de Septiembre in ceremony in a plaza (city square) or a home for a fiesta complete with food, live music and, of course, plenty to drink. The party reaches a high point when the crowd joins together proudly shouting out the names of heroes of Mexican Independence, always ending with the exciting "VIVA MEXICO!", and afterwards the sky is illuminated with fireworks.
In the USA, we love a good Mexican Holiday; after all, look how popular Cinco de Mayo has become! To help with September 16 party planning this year, Dos Lunas Tequila has created an award winning Margarita, with their award winning tequilas, in honor of this year's Bicentennial Celebration in Mexico. "We love Mexico's rich culture, traditions and celebrations, without them tequila would not exist," says Dos Lunas Vice-President, Adam Wallach, "Raise a glass and shout, VIVA MEXICO!"
Viva Mexico Margarita
1 1/2 oz Dos Lunas Silver
1/2 oz Dos Lunas Reposado
1/2 oz Luna Top Shelf Premium Orange Liqueur or Cointreau
1/2 oz Agave Nectar
1/2 oz Fresh Squeezed Lime Juice
1/2 oz Fresh Squeezed Orange Juice
For frozen Margarita, add all ingredients to a blender filled with ice, blend until smooth.
For Margarita served on the rocks, add all ingredients to a cocktail shaker filled with ice, shake to chill and blend.
Serve in a salt rimmed Margarita glass, garnish with fresh lime.
About Dos Lunas Spirits
Launched in 2006, Dos Lunas Tequila produces a line of award-winning ultra-premium handcrafted tequila made from 100% of the finest Blue Agave. Each Dos Lunas product is bottled and filled by hand: Dos Lunas Silver ($36.99), Dos Lunas Reposado ($44.99), Dos Lunas ADejo ($49.99), and Dos Lunas Grand Reserve ($2,500). Headquartered in El Paso, TX, Dos Lunas Tequila is all-natural and chemical free. Dos Lunas is also 100% pesticide free and is available in over 35 states in the United States and Canada. For more information, please visit http://www.doslunas.com or call 866.DE.AGAVE.
###