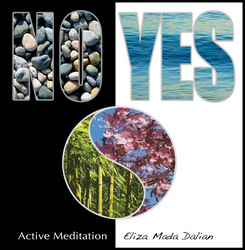 "If something in you does not want to say yes, it's better to say no. It's one of the basics of life that only a man who can say no is capable of saying yes. Those who cannot say no, their yes is impotent; it means nothing, it has no strength in it" -Osho
(PRWEB) September 22, 2010
Throughout life people continually say 'Yes' to each other when they actually feel like saying 'No.' "When we repress our true feelings, we become artificial. We create tension and stress for ourselves and others, and stop ourselves from living and experiencing life fully and authentically." A powerful new Active Meditation called "No-Yes," allows suppressed negative emotions to be quickly and safely released and transformed into inner balance and happiness.
"If you feel like saying, 'No' to people and situations but keep saying, 'yes' because you're afraid to be impolite, hurt others feelings or be rejected, you can now use a powerful new technique called 'No-Yes Active Meditation' to quickly and safely release your suppressed emotions and transform what's negative in your life into inner balance and happiness," says Eliza Mada Dalian, the founder of this evolutionary new Active Meditation technique.
This 60 minute active meditation encourages the practicioner to say, "No" for 30 minutes, sit silently for 15 minutes and say, "Yes" for 15 minutes. The background music helps the participant to release stress and express their repressed negative emotions without fear of being judged or rejected. The No-Yes Active Meditation method not only helps to release pent up negative emotions, but also helps to understand their underlying causes. This emotional freedom technique quickly transforms insecurities into positive, uplifting feelings of self-acceptance, love and forgiveness, and brings about an authentic "yes" that resides in the depth of one's being. Even an occasional practice with this powerful technique helps people feel good about themselves, others, and life.
Eliza Mada Dalian is an educator, mystic, internationally acclaimed Master Healer, and multi award winning author of In Search of the Miraculous: Healing into Consciousness.
This profoundly transformative active meditation method is easy and fun to practice. It's ideal for:

Detoxifying the Body of Negative Emotions
Releasing Stress, Anger, and Pain
Building Self-esteem and Self-awareness
Transforming Fear into Peace and Happiness
Healing into Consciousness & Awakening to one's True Potential
For more information contact Kindi Gill at 778.370.2445 or kindi(at)madadalian(dot)com
The No-Yes Active Meditation CD is available at amazon. or MadaDalian.com
###